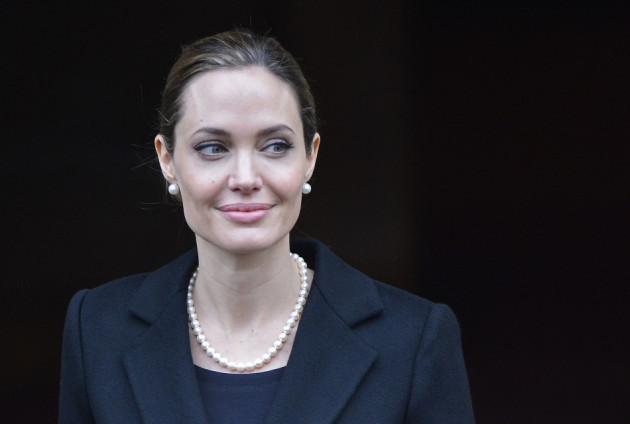 Oscar-winning actress Angelina Jolie took a bold step, and underwent a preventative double mastectomy to minimise the risk of developing breast cancer. The 37-year old actress, who lost her mother from cancer at 56, revealed about her decision to have the operation in an open letter to the New York Times editorial entitled - My Medical Choice.
The mother-of-six discovered that she carried the BRCA1 gene mutation that leads to a risk of both breast and ovarian cancer. She "decided to be proactive and to minimize the risk." The double mastectomy involved three surgeries over almost three months, including reconstruction surgery with implants. She said her fiancé, Brad Pitt, was by her side throughout, and thanked him for his love and support.
"I wanted to write this to tell other women that the decision to have a mastectomy was not easy. But it is one I am very happy that I made. My chances of developing breast cancer have dropped from 87 percent to under 5 percent. I can tell my children that they don't need to fear they will lose me to breast cancer," she wrote.
Twitter went abuzz with the news, and fans all over the world congratulated the Hollywood diva.
"@Caomhe Angelina Jolie is an amazing role model to all women today. Very brave and raising awareness!"
"@AnnaDotHart Well, I think today pretty much justifies the world's 15-year obsession with Angelina Jolie."
"@zweet_reme Vulnerable & inspiring words from Angelina Jolie about her choice to have a double mastectomy to beat cancer chances."
"@cozyvibes I applaud Angelina Jolie for her bravery. I hope her influence will help make detection and quality reconstruction available to *all* women."
"@PhilLatzman Not usually my kind of news, but Angelina Jolie's double mastectomy certainly got my attention this morning."
"@MiaGradneyKHOU Angelina Jolie making big headlines this National Women's Health Week. The actress reveals she had a preventive double mastectomy."
"@ShannahKennedy Angelina Jolie is an amazing woman. What preventitive measures are you taking for your health, just the basics need constant attention... "
"@gordonking375 Angelina Jolie is an incredibly brave woman. For what she did, for what she said and for what she represents. Cancer picked on the wrong one"
"@EstherAkello i salute Angelina Jolie for her preventive mastectomy decision.I couldn't even imagine goin through with it, it must"ve been #Tough choices "
Angelina Jolie Photo of Horse Kissing her Breasts Goes To Auction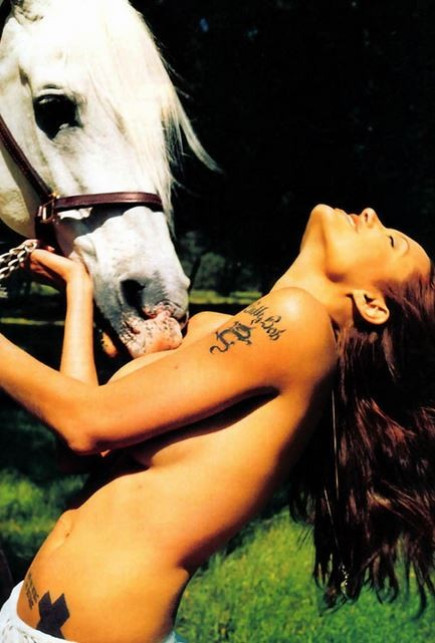 A topless photograph of Jolie posing with a white horse is up for auction at Christie's on 15 May. The photograph was taken by David LaChapelle and is admittedly a very racy image. It shows the then 25-year-old actress playing with a white horse and displaying her array of tattoos. She is seen with her eyes closed and her head thrown back, as the horse nuzzles her breasts.