Angora Fur Trade: The Horrifying Rabbit Torture that Creates your Christmas Jumper [GRAPHIC PHOTOS]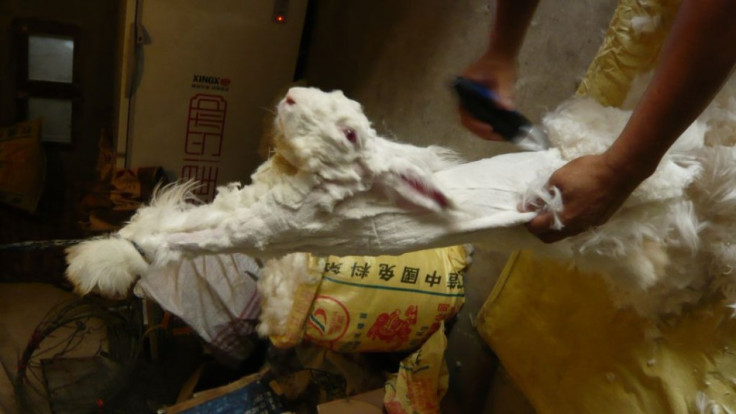 If you plan on buying a woolly jumper for yourself, a friend or family member this Christmas, think again. If the label says "Angora", its wool may be ripped off the bodies of the animals while the rabbits are still alive, as these images and video from a Chinese workshop demonstrate.
Undercover footage retrieved by People for the Ethical Treatment of Animals (Peta) shows the rabbit fur being ripped out of the animal's body while it screams in agony.
The rabbits are tied up to prevent them squirming while their skin bleeds during the procedure. Once the fur has been retrieved the rabbits are left to bleed, cowering in tiny wire cages.
Once the fur grows back, the process is repeated until after two to five years, the rabbits that have survived are "hung upside down, their throats slit, and their bodies are sold," according to PETA.
"PETA UK is appealing to shoppers this holiday season", said PETA UK Associate Director Mimi Bekhechi.
"Please take the time to read the label on that sweater or scarf. If it says 'angora', leave the item on the rack."
The long, soft fur of the Angora rabbit is frequently used for jumpers, hats and scarves with angora jumpers on sale in Topshop for £36 and scarves in John Lewis for £30.
However, Swedish retailers H&M have temporarily banned the sale of Angora in their stores.
The method of ripping out the Angora fur as opposed to shearing it is used because of the value added by selling the full length of the fur.
China produces 90% of all Angora fur and there are currently no penalties for the abuse of animals on farms and no regulation of the treatment of animals.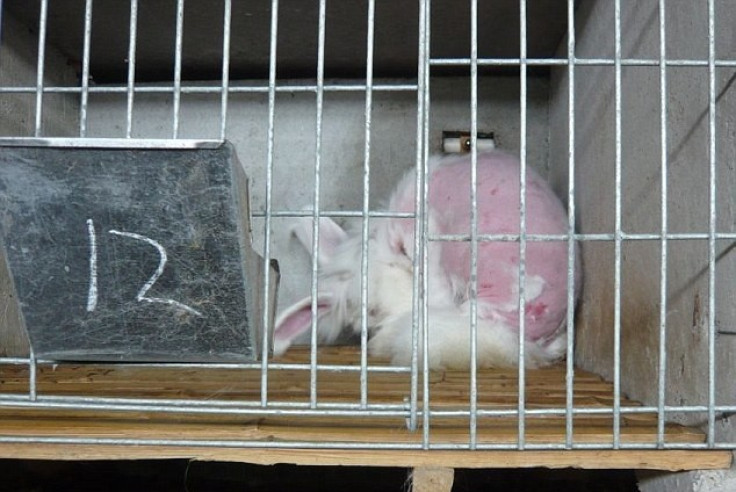 PETA investigators witnessed these brutal scenes in ten different angora farms within the communist nation.
"Rabbits are very shy animals, they don't like to be touched or picked up. In these cases, they go through extreme traumatic stress that leads to irreversible behavioural changes and ill health, which will cause a decrease in fur quality and, ultimately, lead to their death," said Dr Yuvraj Kaginkar, a veterinarian expert in wild and exotic animals.
The animal rights organisation has appealed for consumers to boycott Angora wool not just for Christmas but all year round as this brutal treatment of rabbits is exposed.
© Copyright IBTimes 2023. All rights reserved.