Platforms: iOS [tested], Android, Windows Phone, BlackBerry

Angry Bird Go! Review
It can be argued that Angry Birds essentially creating the smartphone gaming industry as we know it today. While it was not an overnight success for Rovio, the Finnish company capitalised fully on the popularity of flinging cartoon birds at the Bad Piggies.
But that was then and this is now. Smartphone gaming has evolved and Rovio knew it needed to change.
The result is Angry Birds Go!, a 3D Mario Kart-style racer which is a world away from the 2D physics-based Angry Birds games we are used to - and yet is it also familiar territory, with the cast of characters familiar to anyone who has played any of the games in the franchise.
The other familiar trope is the presence of the slingshot, which is now used to launch your car at the beginning of each race.
Straight-forward
The set-up is pretty straight forward. You start off with one track, one character (Red Bird) and a choice of three free cars. From here you can take part in traditional races, versus battles, time trials and even a Fruit Ninja-inspired contest where you have to splat as much fruit as possible.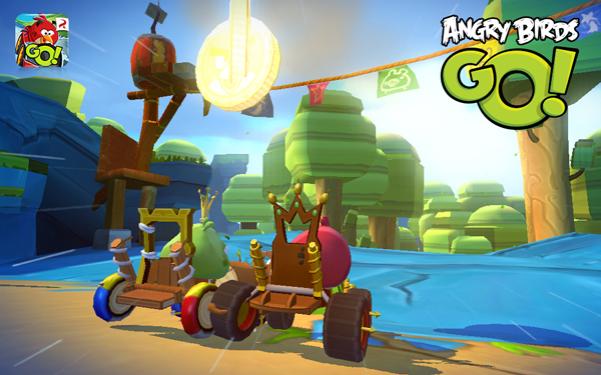 Jami Laes, head of games at Rovio likened the game to a soapbox derby and he's not wrong. The cars look thrown together and slapdash, with upgrades offering ever-more outlandish looking vehicles. There are fifty vehicles in all to unlock - if you have the patience. This is certainly a game aimed at the younger gamer and not the petrolhead who will be much better served looking at Real Racing 3.
The game feels much more like Crash Nitro Kart than Mario Kart. The graphics are colourful, fun and friendly and the performance on a 2012 iPad mini was very smooth, though I'm promised it's even smoother on newer tablets and smartphones.
As well as unlocking the 10 or so tracks available at launch (Rovio says more are coming) you will also need to unlock the various characters by working your way through the races, battles, time trials and challenges.
Nuance
Rovio has done well to get the physics right on Angry Birds Go, with a good blend of responsiveness and cartoon racing. It will be a game everyone will be able to play from the start, but few will master all areas of in the end.
As the game progresses, you will need to work out which car suits a specific track or challenge in order to progress. While it is very much a cartoon game, there is nuance here too.
The controls couldn't be simpler. Having launched your car from the slingshot, you have two choices - touch or tilt. Touch sees you steering left and right by touching small on-screen arrows at the edge of the screen.
Tilt control, as the name suggests, see you titling your smartphone or tablet from side-to-side. I much preferred the touch controls, as the tilt system seemed much less accurate.
There are multiple boosts and special abilities, secret passages and on-track speed strips for you to navigate and discover. There is enough here to keep most fans happy for many hours.
Freemium
This is the first fully-3D Angry Birds game from Rovio. It is the first non-slingshot Angry Birds game from Rovio. But it is another first which is the most interesting move from the company - this is the first completely free-to-play Angry Birds game.
Fellow Finnish smartphone gaming company Supercell hit the hit the headlines earlier this year when it revealed it was making $2.5 million a day from just two iOS games - Clash of Clans and Hay Day.
Rovio are adamant that money was or never will be a reason for going freemium, but it is a major step, and one which could alienate some people.
On first viewing however the company has got the balance right. While the first car I tried to buy did cost a staggering £35, you don't have to buy the cars to progress. You can play through the game without ever paying for a penny, and while it can at times be tempting to just press the button and buy an upgrade to revive your character, it's never gets annoying.
Some children will obviously want to have everything all at once, but there are some safeguards in place so this doesn't happen.
Telepods and Jenga
Rovio of course is no longer just a games company, it is an entertainment company and as such is looking to tie-in as much of its mild-blowing 30,000 pieces of merchandise with the game as possible.
Telepods are small collectible toy cars from the game, which have a micro QR code on the underside. Telepods allow you to "teleport" your physical Angry Birds Go karts into the digital game. It gives you quick access to a car which could otherwise take you many hours to unlock.
It's a bit of a gimmick, and as you don't unlock the character, the benefits are minimal, but I can see them becoming popular among children looking to collect all the characters.
There is also an Angry Birds version of Jenga, and if you have bought this, then you can scan another code to unlock another track. It's all a bit incestuous but from Rovio's point of view makes perfect sense.
Conclusion
Angry Birds Go! is set to become another sure fire winner for Rovio. It has all the elements of a hit game. Great characters, colourful and fun graphics, good gameplay and just the right level of difficultly to keep people interested.
It was inevitable that Rovio would go freemium, it will just be a matter of time to see if it can match the success of its Finnish counterparts.