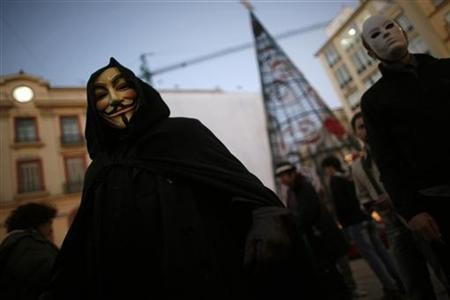 Just days after their arrest, the four suspected Anonymous hackers detained by Dutch Police have been released.
Reported by DutchNews.nl the four men are thought to be aged between 17 and 35. They were all reportedly released from custody by the public prosecution department this Friday.
The report suggested that the men had been released due to their cooperation and willingness to help the Dutch Authorities in its investigation.
Each of the four were said to have made full statements about their hacking exploits and interactions with both Anonymous and LulzSec. The department did not specify whether the four hackers would still face charges.
The four hackers were arrested as a part of a coordinated mission conducted by the UK, The Netherlands and U.S. authorities. The mission resulted in the arrest of 21 suspected Anonymous hackers.
The majority of the arrests were made in the U.S., where the FBI detained 16 suspected members. In the UK, one London teenager was detained "on suspicion of breaching the Computer Misuse Act."
The news that the four individuals arrested by the Dutch authorities do, at the very least, have some connection to the two hacking collectives has led many analysts to believe that there may be some truth to the FBI's claim to have caught a number of Anonymous' "key" members.
Official news regarding the status of the other 17 suspected members remain vague.