Antonio Conte hails reborn Pedro after Chelsea beat Tottenham Hotspur
Former Barcelona star has started the last six Premier League games, ahead of Willian.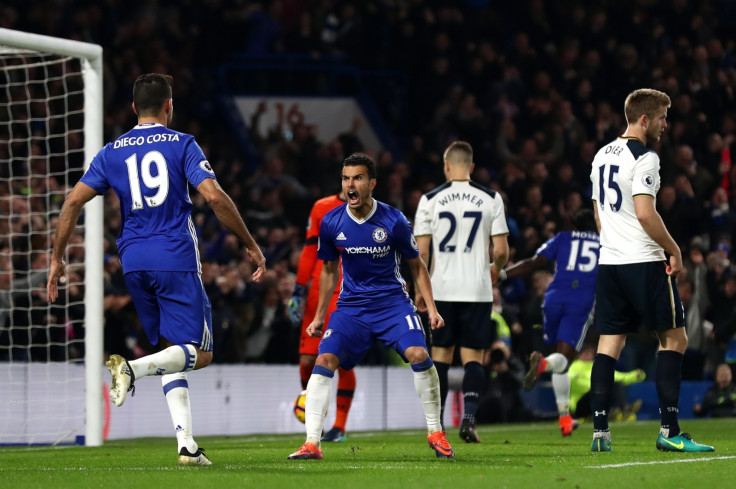 Antonio Conte has hailed the resurrection of Pedro Rodriguez's Chelsea career after the player beat out Willian to become the first-choice forward to partner Diego Costa and Eden Hazard in a 3-4-3 attack. The Italian admitted the decision was not easy, but added that the former Barcelona star deserves a spot after scoring yet another crucial goal in the 2-1 victory over Tottenham Hotspur on Saturday (26 November).
Pedro's Chelsea future was in question over the summer, with the Spaniard suggesting he wanted to return to Barcelona following a disappointing debut campaign in the Premier League.
His start to life under Conte did little to suggest any incoming change, beginning just one of the first seven league matches this season.
However, Pedro took advantage of Willian's absence in the match with Leicester City – with the Brazilian on compassionate leave – and has not looked back since.
The former Barcelona forward has scored three goals and provided four assists in six starting appearances.
Conte has thus admitted he has no option but to keep Pedro in his lineup ahead of Willian, despite the Brazilian being named as player of the year by both fans and teammates last year.
"Pedro is playing great football," Conte said after the victory over Spurs. "He's enjoying this type of football and showing his quality. It's not easy for me to make the decision between him and Willian but he's playing very well and deserved to play. I'm very happy for him and [Victor] Moses, another player who in pre-season you wouldn't think would be in the starting 11."
"Pedro scored a great goal but he worked a lot for the team, that's what I want to see and it's important to continue in this way. It's also important for us to see Willian [a second-half substitute v Spurs] after a bad period for him."
Pedro's goal against Tottenham helped Chelsea to secure their seventh consecutive victory in the Premier League. The Blues will visit Manchester City on Saturday at the top of the table, one point ahead of both Liverpool and Pep Guardiola's side.
Conte has admitted the size of the challenge, especially as prior to the switch to 3-4-3 Chelsea endured two dispiriting defeats to Liverpool and Arsenal.
"It's a big test because Man City are a fantastic team, but Saturday was a good test for us," Conte said. "Now we are a different team to two months ago. It would have been very difficult to win the Tottenham game if we were the same team as two months ago.
"I love the mentality of my players, I saw a great attitude and great commitment from all of them. I see the will to change something from the past, now it's important to continue."
© Copyright IBTimes 2023. All rights reserved.