Apple may face a new Advertising Standards Authority (ASA) investigation over claims that its new iPad works with 4G mobile phone networks.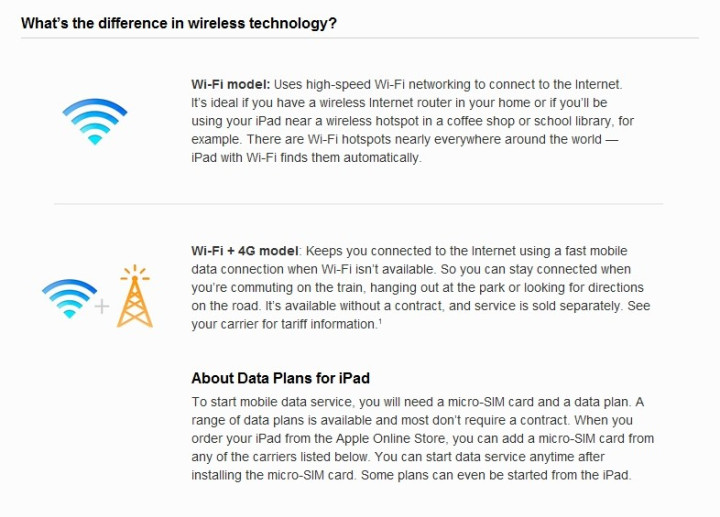 The ASA originally opened an investigation following 40 complaints about claims for the iPad with Wi-Fi and 4G that appeared on Apple's UK website. Apple agreed to remove references to 4G from its webpage and to edit a video containing 4G references and the case was informally closed by the ASA.
"We have since been contacted by several complainants who have identified other potentially problematic claims about the iPad and 4G on Apple's website. We are currently assessing these new complaints," an ASA spokesman told IBTimes UK.
"If it appears that the problem claims we asked Apple to remove are still appearing, we will investigate these new complaints."
Apple has already revised its website in Australia following similar complaints and also faces action over the iPad's 4G campaigns in Norway and Sweden.
The Wi-Fi and 4G version of the iPad is still for sale on Apple's UK site today and the company didn't respond to say whether it would be removed following the new complaints.
A footnote at the bottom of the page does explain: "4G LTE is supported only on AT&T and Verizon networks in the US, and on Bell, Rogers and Telus networks in Canada. See your carrier for details."
Complaints submitted to the ASA challenged whether the references to 4G were misleading, because consumers understood that 4G was not currently available in the UK.
Some of the complainants also challenged the description of the iPad 3 as 4G because they did not believe that the device would be compatible with 4G networks when they were introduced in the future.
UK customers won't have access to superfast mobile broadband on a widespread basis until late 2013 or probably early 2014 at the earliest.
Trials of 4G networks are taking place in the UK but the auction of 800MHz and 2.6GHz spectrums set aside for those networks has been delayed a number of times and is unlikely to take place until late this year or early 2013.
Everything Everywhere, the partnership between T-Mobile and Orange UK, is currently petitioning Ofcom to re-engineer its current allocation of the 1800MHz spectrum and create the UK's first 4G Long Term Evolution (LTE) network.