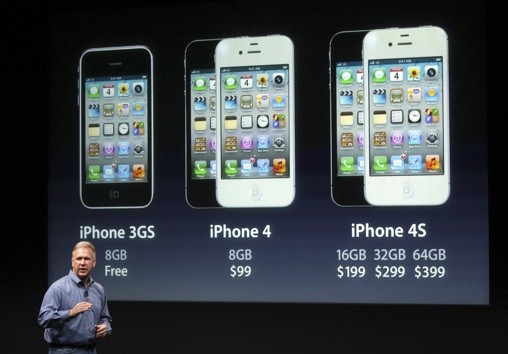 The evening started at 6pm British time, with Tim Cook opening with a statement about his first Apple launch as CEO and how it was a privilege of a lifetime to have worked there for 14 years.
6.01pm: A video plays showing the store in Nanjing, China, where they say they got 100,000 visitors in a single weekend..
6.08pm: Talking about the success of OSX Lion with 6m digital downloads "80 per cent more than Snow Leopard."
6.14pm: Graphs and statistics on sales figures, iPod sales over 300m yet it took Sony 30 years to sell 220,000 Walkmans. 70 per cent of iPhone users are "very satisfied", the largest percentile of all smartphones, HTC is second with 49 per cent.
6.20pm: 92 per cent of the Fortune 500 companies are testing or deploying iPad. This is in less than 18 months. This is unheard of.
Despite everybody and their brother trying to compete with iPad, three out of four tablets sold in the U.S. is an iPad. Consumers don't want tablets, they want iPads.
"We have passed the quarter of a billion unit sales mark."
6.32pm: iOS 5 announced, it will be free to iPhone 3GS, 4, 4S, the iPad and iPad 2 as well as on the third- and fourth-generation iPod Touch. New features include iMessenger, Twitter integration and photo editing. For full list click here.
6.45pm: The team talk about iCloud and its features, which looks phenomenal, by the way. Then onto the Nano and the way it was work as a watch. ($129 8GB, $159 16GB)
6.53pm: The iPhone 4S is announced, the anticipation for a second, superior phone still hangs in the air. They sit there playing Infinity Blade 2 for a while - which is out Dec. 1, by the way - then discuss the A5 processor, increased battery life and the 'intelligent antenna'.
7.02pm: The announce that the iPhone 4S will be a 'world phone' . It will utilize both CDMA and GSM. Now the 8mp camera (60 per cent more pixels than the iPhone 4).
7.13pm: Apple announces Siri, an intelligent voice assistant that allows you to ask whatever you want. "Who is Neil Armstrong" would result in Siri showing you his Wikipedia page. Then asking, "when did he land on the moon?" would find the answer within the text on his page. Amazing stuff, this really is not to be underestimated.
7.16pm: More Siri examples, "wake me up tomorrow at 6am" will activate your alarm, "find me a Greek restaurant" will do just that.
7.27pm: Everyone looking disappointed that the iPhone 5 will not be announced, at least we don't think so.
7.35pm: Prices for the iPhone 4 are announced- $199 for the 16GB, $299 32GB and $399 for the all new 64GB. It will be available from the 14Oct (preorder on Friday) in black and white.
7.40pm: Lights up, lots of late-working journalists look disappointed.. Maybe next year, eh?