As part of the annual Black Friday celebrations, Apple has reduced the prices in its UK store of some Macs, iPods and the iPad.
The iPad 2 is selling today for £368, down from £399 and the iPod touch and nano have also seen minor price cuts, while the iMac, MacBook Air and MacBook Pro have also had their prices reduced.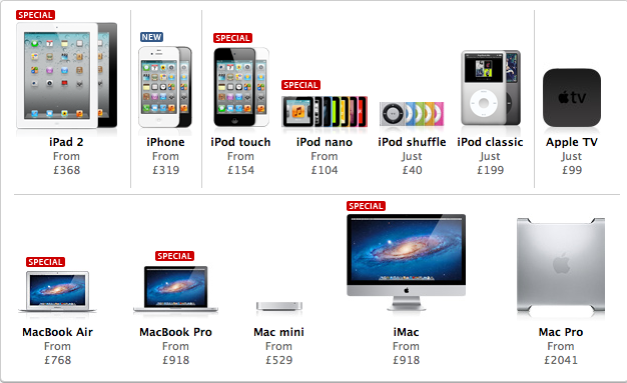 The iMac, MacBook Pro and Air have each been discounted by £81, the iPod touch by £15 and the iPod nano by £11; other discounts include £11 off the iPad Smart Cover, £41 off the 3TB Time Capsule and £11 off the Magic Trackpad and Magic Mouse.
Black Friday is an American celebration which marks the day after Thanksgiving and the start of the Christmas shopping season. Many shops and online stores in America offer large discounts for one day only, and some companies such as Apple and Amazon offer similar deals for UK customers, too.
The deals stretch beyond Apple products, with the online store offering price cuts on speakers and other Mac and iOS accessories.
Amazon has been running 'Lightening Deals' all week on its UK store, where tens of thousands of products have seen discounts ranging from 30 to 50 per cent, but there's items only appear on the site for a few minutes, and buyers must pay within 15 minutes or the item is re-listed.