Within hours of Steve Jobs' death, Facebook posters tried to cash in by offering to give away 50 iPads.
Applicants are invited to complete an online survey to qualify for their free iPads, supposedly being given away in memory of the Apple and Pixar co-founder.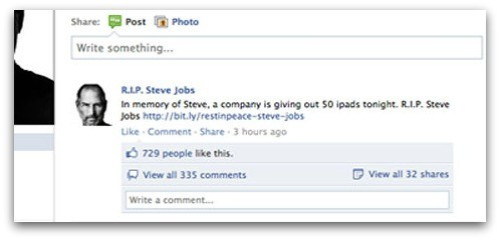 The giveaway is fake, but nonetheless 15,000 people clicked through to the bogus survey site, according to Internet security firm Sophos.
Sophos said: "The cool-sounding link sucks you in, tricking you into believing that you may get a free iPad, but then goes on to get you to complete online surveys to 'qualify.'
"The link does through the bit.ly short url service (we have asked our friends at bit.ly to shut the link down) and we can see that over 15,000 people have already clicked on the link which was set up within hours of Steve Jobs' death first being announced."
Sophos explained how the scammers make money out of this: "Well, they are earning affiliate cash - in a nutshell, they make more money the more traffic they can direct to Web sites, driving more people to become customers, or take online surveys and competitions.
"Cynically, they exploited the death of Steve Jobs in the hope of driving large numbers of Internet users to the competition Web pages. The fact is, of course, that they could just as easily have taken those users to a Web page containing malicious code or a phishing page designed to steal credentials."