Apple TV second generation (2G) owners are in for a special treat, as FireCore team has just announced the release of an updated Seas0nPass tool to jailbreak the latest firmware, Apple TV 5.2, for the set-top box. FireCore has also updated its popular aTV Flash (black) software suite to version 2.2 in order to support the latest firmware.
The new aTV Flash update is a minor version upgrade. However, it brings a host of bug-fixes, enhancements to DVD playback and also support for the new Bluetooth keyboard feature in 5.2. Here is the complete change log for the new aTV Flash update from FireCore's blog:
NEW! Added support for Apple TV 5.2 and Bluetooth keyboards
Minor improvements to backups
Minor improvements to DVD playback
A handful of other bug fixes and improvements
Addressing users about its release of updated versions of aTV (black) and Seas0nPass for Apple TV 2G, FireCore has this to say on their official blog:
"The wait is over, and today we're happy to release updated versions of aTV Flash (black) and Seas0nPass that support the recently released 5.2 (iOS 6.1) Apple TV software. Big thanks goes to the evad3rs for making much of this possible."
The Bluetooth keyboard feature further brings support for a built-in web browser called "Couch Surfer Pro" with its own Google Search bar, besides the capability of viewing any HTML-5 encoded videos. On the downside, it lacks support for other third-party plugins such as Plex, Remote HD, Rowmote, and XBMC.
Existing aTV Flash (black) owners can now install the v2.2 update free of charge by downloading the app from FireCore's website, provided they have already jailbroken their device on Apple TV 5.2, according to a recent iDownloadBlog report. New users of aTV Flash need to purchase the software at £19 ($29.95) approximately.
As iDownloadBlog notes, the current version of Seas0nPass provides only the untethered jailbreak for the device running the latest 5.2 firmware (or older with saved firmware signatures) and there is still no jailbreak support for the third generation (3G) Apple TV.
Here is the complete step-by-step guide to jailbreak Apple TV 2G untethered on 5.2 firmware using Seas0nPass for Mac (courtesy of iClarified):
Step 1: Download the latest version of Seas0nPass.
Step 2: Double-click on the archive (zip file) you downloaded to extract it. Then double-click the extracted application to install it.
Step 3: A pop-up message-box prompts you to sign in as an Administrator. Now, input your username and password and then hit the OK button.
Step 4: A message prompt asks you to enable UI scripting. Now, click the Enable button.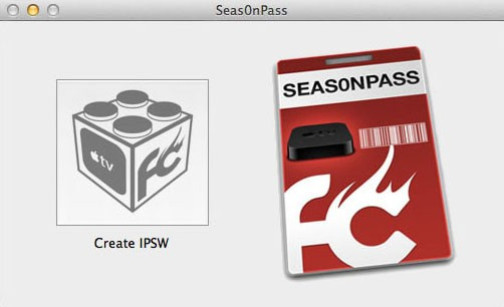 Step 5: Click Create IPSW button in the main screen.
Step 6: Seas0nPass will begin downloading the latest Apple TV firmware file.
Step 7: A custom IPSW firmware file is now created via Seas0nPass.
Step 8: After the custom IPSW file is created, Seas0nPass prompts you to connect the Apple TV to computer using a micro-USB cable. Then place the device in DFU mode with the remote, by pressing and holding MENU and PLAY/PAUSE buttons together for about seven seconds. NOTE: Make sure that the power cable is unplugged during the process, and the USB cable must be plugged in exactly at the same time while holding the buttons.
Step 9: After Apple TV is recognised in DFU mode, some necessary files are uploaded via Seas0nPass and then iTunes is automatically launched. Finally, the device's firmware will be restored to the latest version - Apple TV 5.2.
Step 10: Your Apple TV 2G is now successfully jailbroken.