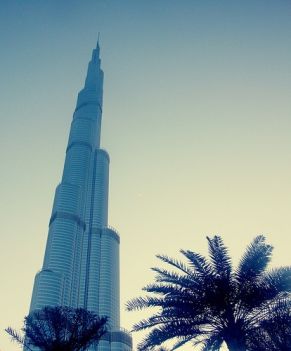 An illusionist from Abu Dhabi believes he can make the Burj Khalifa, the tallest man-made structure/building in the world disappear. All he needs is a sponsor. The Burj Khalifa is 829.8m (2,722ft) tall.
Dr Montaser Al Mansouri, who became the first Arab to win two Merlins (the US-based International Magicians Society's highest honour), says he can do the unthinkable.
"I can make the Burj Khalifa disappear for three seconds. If I get a sponsor, I want to perform this magical feat in December," the 42-year-old Al Mansouri declared.
Merlin Awards
Mansouri's Merlins came in 2012 and earlier this year and he has held over 70,000 shows in 26 years, according to Gulf News. He admits delight to being compared to famous magicians like David Copperfield and Criss Angel but also claims he is different.
"I broke the tradition of magicians by not wearing a black coat. I want to be known all over the world as an Emirati magician. That is what makes me proud," he explained, adding that he was determined to chase his dream despite the fact magic (and the profession) is forbidden by his religion.
"I took [a] fancy to this art after watching an Indian magician perform small tricks in Ras Al Khaimah when I was just 14. I became his disciple and learned magic for three years under his tutelage," Mansouri concluded.
The Gulf News report says Mansouri performs regularly at the Emirates Park Zoo.
Statue of Liberty Trick
Incidentally, if Mansouri does succeed with his marvellous plan, it won't be the first time an illusionist makes a skyscraper/tall man-made object disappear.
In April in 1983, American illusionist David Copperfield made the Statue of Liberty disappear on live television. During the act, Copperfield stood in front of the statue, facing the crowd. The illusionist raised giant curtains for a few seconds and when he lowered them, the statue was missing.
And to assure the crowd the trick really was successful, a helicopter shone spotlights on the place where the statue was standing.
Check out a video of David Copperfield and the Statue of Liberty vanishing trick:
[Video Courtesy: YouTube/TheMagicofIllusion]