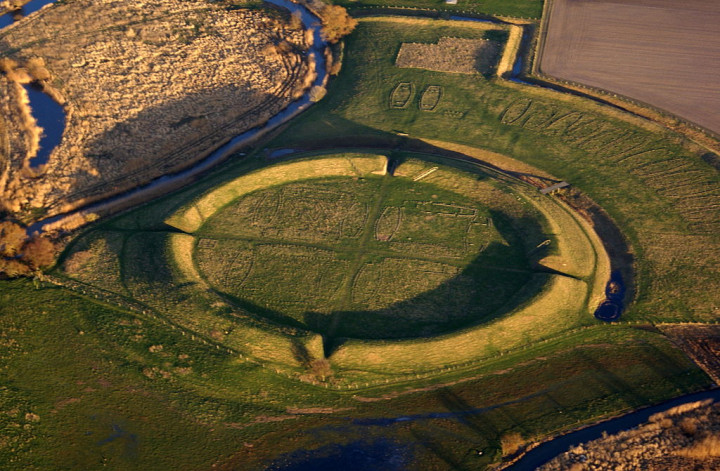 A 500-foot, ring-shaped Viking fortress discovered in Denmark may have been used to launch an invasion of England, say historians.The construction unearthed is about 40 miles south of Copenhagen, where ancient roads joined at the turn of the first millennia.
"This is the first time for more than 60 years that a new Viking ringed fortress has been discovered in Denmark," explains Nanna Holm, an archaeologist and curator at the Danish Castle Centre.
Søren Sindbæk, who is a professor of medieval archaeology at Aarhus University and took part in the excavation added: "The discovery of the new Viking fortress is a unique opportunity to learn more about the battles and conflicts of the Vikings, and gives us a new chance to study the most famous of our Viking monuments."
Groundbreaking technology was used to discover the fortress. According to Aarhus University, Helen Goodchild, a University of York researcher used a technique called gradiometry, which involves taking measurements of the Earth's magnetic field found in the soil at the site.
By comparing variations from location to location, they were able to detect where humans had altered the Earth and start excavating at these points.
"By measuring small variation in the earth's magnetism we can identify old pits or features without destroying anything. In this way we achieved an amazingly detailed 'ghost image' of the fortress in a few days. Then we knew exactly where we had to put in excavation trenches to get as much information as possible about the mysterious fortress," Professor Søren Sindbæk explained.
What came to light was evidence of a huge, 500-foot wide circular fortress with four openings—one at each compass point—enclosed by wooden gates that were eventually burned down, possibly during battle.
Research is continuing on the analysis of the burned gate posts for an accurate dating of the fortress, and it may date back to King Harald Bluetooth—or the son who deposed him, Sweyn Forkbeard, who ruled at the turn of the first millennia. Forkbeard later became the King of England after invading London in 1013.