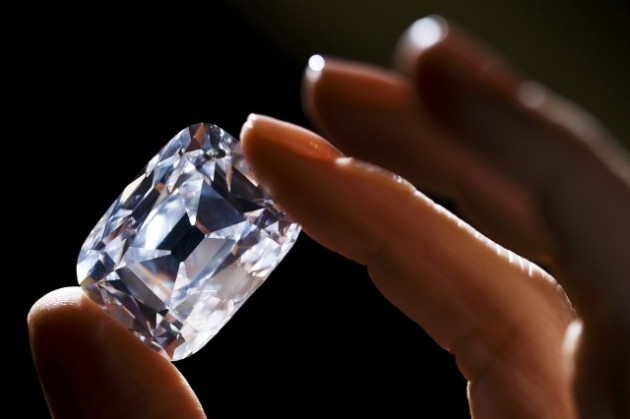 A rare and internally flawless diamond from India's Golconda mines has been sold for a record £13.52m ($21.48m) at an auction conducted by Christie's in Geneva.
The cushion-shaped and colourless diamond, weighing 76.02 carats, is famously known as The Archduke Joseph Diamond, after the name of its first recorded owner - Archduke Joseph August of Austria (1872 - 1962), a prince of Hungary. According to Christie's, the diamond possess a purity of colour and high degree of transparency, which are particular to the world's finest and purest type diamonds.
"Diamonds of this type and size, displaying such a superior quality as well as an antique cutting style, are extremely rare and will unequivocally evoke references to the historic term of 'Golconda'," a feature note on the Archduke Joseph Diamond on Christie's official Web site reads.
The sale of the diamond has set a new world record at auction for a colourless diamond as well as for a colourless Golconda diamond.
"In the busiest saleroom witnessed at the Four Seasons hotel des Bergues in Geneva in recent years, the Archduke Joseph Diamond of 76.02 carats sold for $21.5, a world record price per carat for a colourless diamond," François Curiel, President of Christie's Switzerland and International Director of Christie's Jewellery Department, confirmed.
Golconda Diamonds and Royal Connections
The Archduke Joseph Diamond apart, many famed diamonds that have a royal lineage and are part of crown jewels of various countries including Iran, are believed to have been extracted from the fabled Golconda mines in India. Among these are the Koh-i-Noor, presently on display at the Tower of London and set in the crown made for the late Queen Elizabeth, The Queen Mother, for the 1937 coronation. According to the official Web site of the British Monarchy, the Koh-i-Noor diamond, which has a controversial history with regard to its first owner, was gifted to Queen Victoria in 1850 during the British Raj. At 105.6 carat, it is one of the largest known diamonds.
The Archduke Joseph Diamond's former owner, Alfredo J. Molina, who is also the CEO of America's Black, Starr & Frost jewelers, believes it is yet another Golconda diamond "fit" for a queen.
"I am thrilled but not surprised that the Archduke Joseph Diamond should have fetched such a high price. It is considered the finest and largest perfect Golconda diamond ever to appear at auction, with a noble lineage and royal provenance which literally 'Fit for a Queen'," he said.