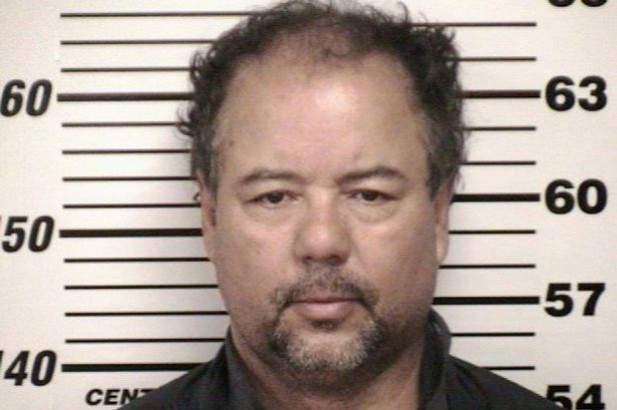 Cleveland Kidnapper Ariel Castro may have died accidentally from auto-erotic asphyxiation rather than suicide, state officials have said.
When the 53-year-old's dead body was discovered in his prison cell, at the Ohio Correctional Reception Centre on 3 September, he was facing the door with his knees bent, trousers and underwear around his ankles.
At the time of his death Castro was serving a life imprisonment plus 1,000 years without the possibility of parole at the for abducting Michelle Knight, 32, Amanda Berry, 27, and 23-year-old Gina DeJesus.
Although it had previously been suggested that he had taken his own life, new evidence sugegsts that he may have actually died accidentally from auto-erotic asphyxiation - the intentional restriction of oxygen to the brain for sexual arousal.
"His pants and underwear were pulled down to his ankles. The relevance of this finding is unclear," an 11-page report in to Castro's death read.
"These facts, however, were relayed to the Ohio State Highway Patrol for consideration of the possibility of auto-erotic asphyxiation.
"No other immediate observations about the scene led to conclusions about the motivation for the self-inflicted death."
The report always notes that Castro did not leave a suicide letter and "multiple levels of assessment" did not find tendency toward suicide.
Meanwhile, it has also been revealed that two prison guards falsified logs documenting their observation of him in the hours leading up to his death.
The report said that the guards had failed to check Castro at least eight times between 15:03pm and 20:15pm. He was found hanged at 21:18pm.
The document said that "post log books were falsified" and that "there was no satisfactory verification process in place".
It also emerged that staff failed to make sure Castro watched a suicide prevention video when he first arrived at the prison.
In August, Castro pleaded guilty to kidnapping Knight, Berry and DeJesus from the streets of Cleveland between 2002 and 2004.
During their incarceration Castro repeatedly raped and beat his victims and also fathered a daughter with Berry.