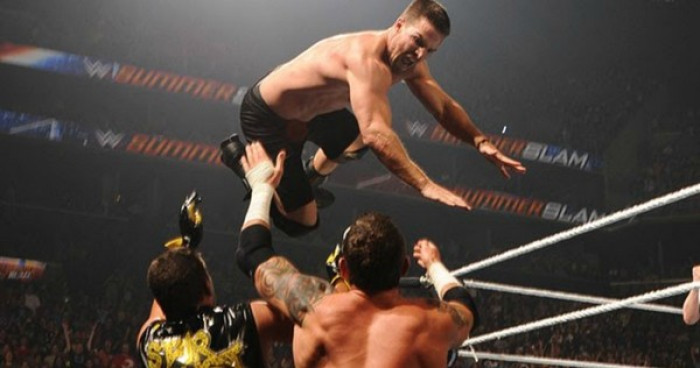 Arrow star Stephen Amell managed to put up quite an impressive performance for his wrestling debut at WWE SummerSlam 2015. The actor, who shot to the limelight with his high-on-action superhero series, clearly made an effort to look competent in the ring as he and Neville took down Stardust and King Barrett.
But one WWE legend who wasn't impressed with Amell's wrestling stint is Stone Cold Steve Austin who recently stated that it was "embarrassing" for professional wrestlers to be taken down by "that kid with the crossbody".
"I just don't like the celebrities coming in there, the squared circle, and being able to compete at any level with the guys in the business, Steve Austin said on the latest episode of his podcast, The Steve Austin Show. "You've got to protect some of the integrity of the business. I don't care what day and age, what year it is."
"…I just got a hard time seeing that kid come off with that crossbody on the top rope on two WWE guys down there. So, was it embarrassing? You're damn right it was, but for the wrong reasons, and the reasons were bad booking. It was shoot embarrassing to those guys to have to go out there and do that with the actor guy involved, but that's on a shoot level, so it was an embarrassment because of the booking, and I felt bad for those guys because they were in that role," he added.
Incidentally, Steve Austin was earlier involved in an angle with Mike Tyson which played a big role in making him a star, so what he's saying may be a tad hypocritical, states ComicBookMovie. But as long as fans dig it, why complain.
Meanwhile, you can check out the first trailer for Arrow season 4 below: