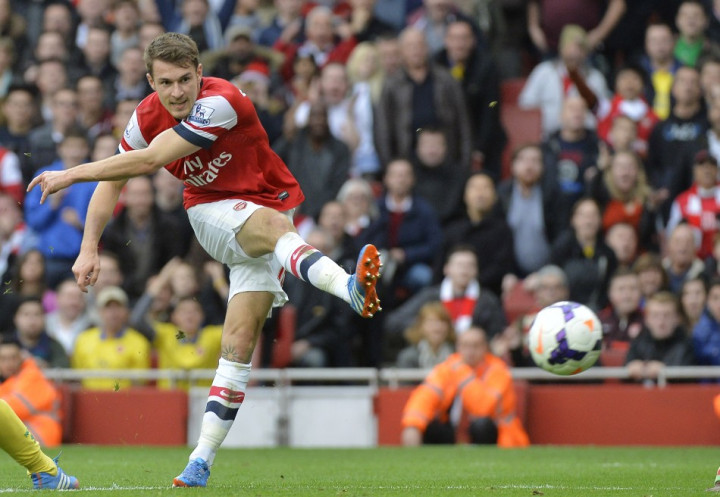 Thomas Vermaelen believes that Aaron Ramsey can be considered the best player in the Premier League right now, as the midfielder goes from strength to strength in both the attacking and defensive departments.
Ramsey has so far scored nine times for Arsenal this season, more than the goals he has scored over the course of his career at the club before August of this year.
His efforts have had a big hand in placing the Gunners at the top of the Premier League table and it would appear that the side's trophyless luck is coming to an end as they mount a serious challenge across the board for silverware at present.
And while many are praising the efforts of super signing Mesut Ozil in bringing success to the north London club Vermaelen believes that Ramsey should take much credit for finding his best form and becoming an integral member of the Arsenal squad.
"Aaron is doing incredibly well," he said, according to the Mirror. "He showed it again against us (Belgium) in midweek with his goal.
"He is the best player in the Premier League at the moment. He is scoring goals and looking really sharp with his passing.
"He's doing extremely well. He's been unbelievable for us.
"He got the Player of the Month award, scoring goals, playing well and showing he is important for us.
"There is more to come from him because he is young."
Arsene Wenger showed faith in Ramey's abilities when many were doubting the Wales international as he looked to find his form after recovering from a horror injury to his right leg.
And it would appear that the 22 year old has repaid the manager's faith with his performances in the current campaign, and as Arsenal defeated Norwich 4-1 at the weekend the side look to be in particularly high spirits as they prepare to face Borussia Dortmund in the Champions League this week.
Find out which Bundesliga duo Arsene Wenger hopes to land in January here.