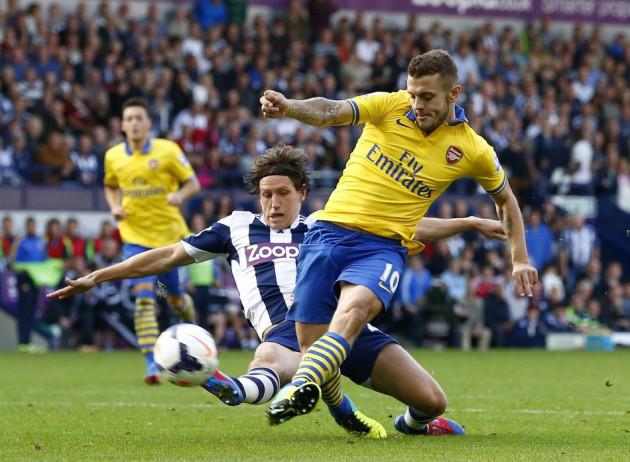 Jack Wilshere was not at his best against West Brom and proved he will need to work hard to fulfill his potential for Arsenal, Jamie Redknapp has claimed, after the Gunners' 1-1 draw against West Bromwich Albion on Sunday.
Wilshere scored in the 63rd minute to gift his side a point on a day when the north Londoners weren't their usual selves, making up for an inspid and uncharacteristic first half display.
And though Wilshere will be disappointed with his first half performance Redknapp believes that he showed a lot of character to justify why he's one of the most talked about players in England.
"I have been Wilshere's biggest fan but the way he played first half was not up to the standards he has set over the years," he told Sky Sports.
"He was caught in possession, kept giving the ball away and never won his 50/50 challenges."
But Redknapp lauded Arsene Wenger's faith in the youngster by keeping him on the pitch despite his mistakes, which ultimately produced their only goal in the match.
He explained: "Arsene Wenger deserves credit for not taking him off but Jack deserves it as well for reacting, as all good players do.
"He didn't hide, got in a position to score a goal and played the pass of the match to Olivier Giroud.
"He was much more effective in the middle as wide left doesn't suit him because he doesn't have the pace of a Theo Walcott.
"But with Santi Cazorla coming back and Mikel Arteta and Mathieu Flamini forming that defensive two, you wonder where Wenger will fit everyone in."
Arsenal currently sit at the top of the Premier League table going into the international break despite the side being disappointed not to take the win against West Brom as their 10 game winning streak continued.
Wilshere is expected to be the next big star for Arsenal but after spending over a year on the sidelines due to injury the 21 year old is still yet to consistently play at his best.