Arsene Wenger has explained why he believes Olivier Giroud took a little longer than Lukas Podolski to settle into life at Arsenal, with the Frenchman also revealing that Theo Walcott has suffered from a shoulder injury that will keep him out of action in this week's Champions League fixture.
Giroud didn't score until his seventh appearance for the Gunners, with some questioning Wenger's decision to bring the France international to the club, while they struggled to get over the loss of Robin van Persie up front.
But now that Grioud has scored five times in his last five showings for Arsenal, Wenger insists it was simply a matter of time before he started showing his worth at the Emirates.
"There are many factors," he told the Arsenal website. "The first one is that I believe physically he worked very hard when he arrived here. The intensity of the games took a lot out of him.
"The second problem was a bit [to do with an] understanding with his partners.
"The third problem was level of confidence. When you come to a club like Arsenal, you're surrounded by big names. It takes you a while to think 'OK I belong in this world' and he has shown that on that level he has gained a lot."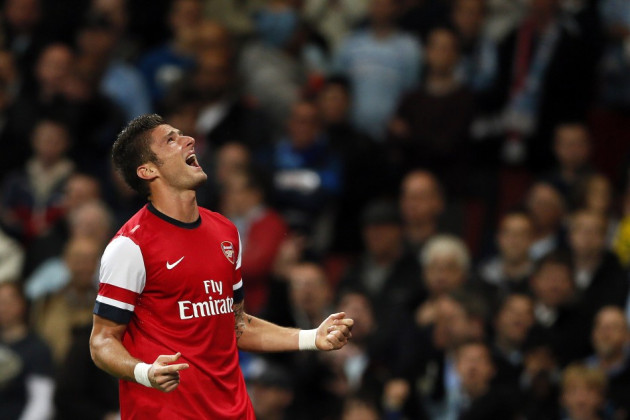 Giroud looks set to face Montpellier this week in Arsenal's Champions League fixture, but Theo Walcott will miss the tie with a shoulder injury, Wenger has confirmed.
"The injury he got during the game with his shoulder, we have to scan that and see if there is no damage," he said. "It should be short-term."
Walcott's situation at Arsenal has been rather precarious this season, with the winger still undergoing contract negotiations in the final 12 months of his current deal.
And Wenger admitted that with the current issues surrounding the star, Arsenal are taking a big risk by keeping him on board and leaving open the possibility that he could leave for nothing come next summer.
"There's a risk, yes, but that we are ready to take," he explained. "We started the season with this squad and we want to finish the season with this squad. A successful season is more important for us than this risk that is only a financial risk, apart from the losing the player.
"If we sell him, we lose him anyway. What is important is what we achieve together for the season. I just think that Theo is a big part in that."