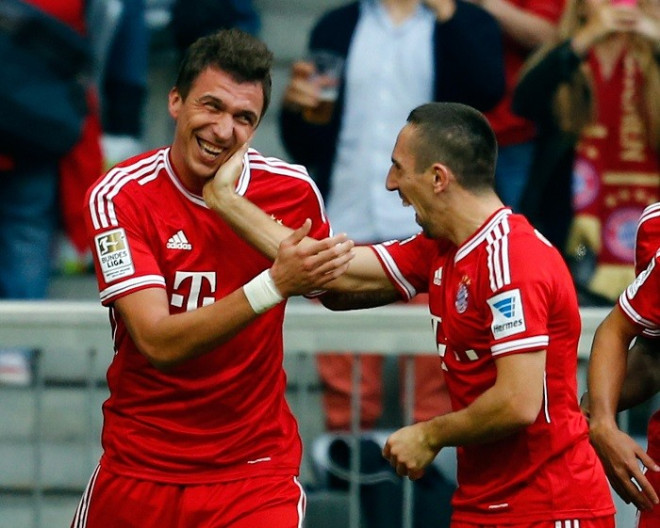 Former Bayern Munich striker Mario Gomez has handed Arsenal a boost in their reported interest in Mario Mandzukic after insisting no one at the club is safe from the chop.
The Germany international broke Bayern's transfer record when he arrived from Stuttgart in 2009 and enjoyed two stellar campaigns for the Bavarians, excelling in the 2011/12 season as he struck 40 goals in all competitions.
But just as his influence helped pave the way for Miroslav Klose's departure from the Allianz Arena, the arrival of Mario Mandzukic in 2012 saw Gomez's role as the spearhead of Bayern's attack fade, before he opted to leave for greater first team opportunities with Fiorentina last summer.
Gomez believes the fate that befell him is likely to happen to Mandzukic when Robert Lewandowski arrives from Borussia Dortmund this summer, a development that will be met with positivity by Arsenal who are keen on the Croatian international.
"From the quality of the team and the club, Bayern are outstanding," Gomez told Bild.
"At the moment they are the measure of all things. When a new coach and a new system comes in, forwards can be swapped. This is normal in Munich. Everyone is replaceable."
Arsenal were tentatively linked with Mandzukic during the January transfer window as the club looked to bolster their striking options. While the club were reportedly keen on a number of forwards, Arsene Wenger indicated he was only interested in a short term arrival, suggesting the Gunners' boss is looking to add an established centre forward to his side this summer.
Mandzukic, 27, is likely to be one of those names under consideration with Lewandowski's arrival likely to affect his first team opportunities. Earlier this year it was revealed that the Poland international had decided to leave Dortmund and had agreed a five-year contract with the current Bundesliga and Champions League holders.