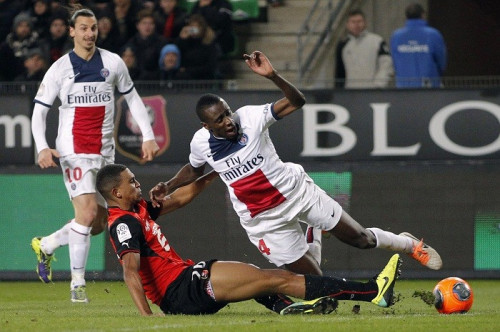 Arsenal and Manchester City have been encouraged their battle to sign Blaise Matuidi as the Paris Saint Germain midfielder claims he is yet to decide his future
The French international is a pivotal player for manager Laurent Blanc but with his contract at the French champions set to expire oin the summer he is currently free to negotiate a pre-contract agreement with other clubs.
City, Arsenal, Chelsea and Barcelona are all reportedly interested in taking advantage of his current contract situation and Matuidi has swelled speculation about his future in an interview with Canal+ by suggesting that he may leave the team in summer.
"Now, I'm now focused on the current season and after there are things that I don't want to discuss at the moment. In life you always have goals and my goal is to get as high as possible. If Paris helps me to go higher, then I could stay but I am ambitious. The future will tell us what happens."
According to French reports, Manchester City have already tried to convince the player to move to the Etihad by offering him a salary that will allow him to earn around £8m a year.
Pellegrini is desperately looking for a defensive midfielder, having recently been forced to use centre-back Martin Demichelis in that role against Chelsea due to injuries to Fernandinho and Javi Garcia.
The Blues were linked with Porto's Fernando last January but with reports in Portugal claiming the Brazilian is set to sign a new deal at his current club Pellegrini's side may try to focus on adding Matuidi instead.
Arsenal were also reportedly interested in the French international during the latest transfer window as Arsene Wenger was concerned about the number of injuries that the Gunners have suffered this season, and they may renew their interest in Matuidi after his latest comments.
Nevertheless, PSG president Nasser Al-Khelaifi recently issued a stern warning to any club thinking of signing Matuidi, insisting any attempts to poach his players will be reciprocated.
"Interest from Manchester City in Matuidi? I am not worried because they know that if they touch one of our players then we will be in opposition to them and we will go and contact their players too."