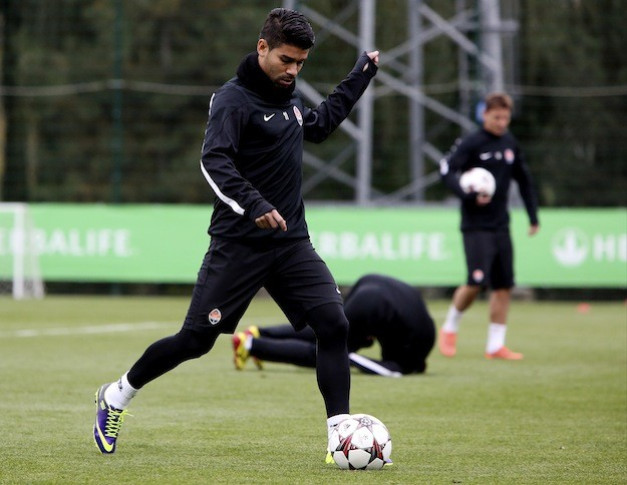 Former Arsenal striker Eduardo believes that Manchester United will make a comeback and challenge the Gunners for the title as he targets a return to the Premier League.
Eduardo spent three years with Arsenal before making the move to Shakhtar Donetsk and the 30 year old is hopeful that when he becomes a free agent next summer he can impress with the Croatia national team at the World Cup and seal a return to England.
And while he believes that Arsenal are in the best shape to win the Premier League title this season - the side are currently at the top of the table despite a heavy loss to City at the weekend - he also thinks that United will make a surprise comeback in the race for tthe Premier League crown.
"Arsenal have the right mentality and I'm not surprised they have made such a good start to the season and are top of the Premier League," he said, according to Sky Sports. "Don't forget, their great run of form actually started in the second-half of last season when they went on a run, picked up a lot of points and qualified for the Champions League.
"I think United will get stronger as the season goes on - they will go on a run and fight Arsenal for the title.
"I also like Liverpool this season and how they are playing. I think the title-race will come down to those three sides - Arsenal, Manchester United and Liverpool."
United are currently eighth in the table and have won just one game in their last five but the side's 3-0 victory over Aston Villa will serve as a confidence boost going into the Christmas period.
Meanwhile Eduardo says he loves the Premier League and has kept in contact with some of his former Arsenal teammates in the hope of a move back to England next year.
"I still love the Premier League," he explained. "I keep in touch with Tomas Rosicky and Bacary Sagna at Arsenal and keep an eye on what is generally happening in England.
"I expect to play for Croatia in Brazil and if I have a good World Cup, who knows what that could lead to?"