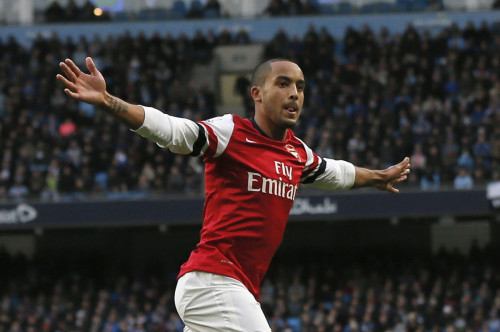 Arsenal legend Ian Wright has had a shot at Tottenham fans on Twitter after seeing some of the Spurs' faithful celebrating Theo Walcott's ACL injury, which will keep him out of action for six months.
Walcott injured his knee during the Gunners' match-up with their bitter rivals in the third round of the FA Cup, and while being stretchered off the ground he got into a war of words, or sign language, with the opposition fans.
Signalling the scoreline 2-0, which was the eventual result of the match, Arsene Wenger later claimed that coins and other objects were being thrown at the England international as he was carried into the tunnel.
And upon the announcement that Walcott will be on the sidelines for six months, effectively missing England's World Cup trip to Brazil, Wright has quickly spoken out against any Spurs fans hoping to take joy in the 24 year old's injury.
"Sums spurs up rejoicing in the news of Theo!" he wrote on his Twitter. "105 mill spent on players, and it's still an AFC player getting injured makes you happy. Sad.
"I'll leave you with the words from the great Roy Keane, "Tottenham will always let you down " nuff said."
Tottenham and Arsenal's rivalry is one of the most bitter in English football and reached it's heights once again as the pair faced one another in the FA Cup competition.
The FA confirmed earlier today that they would not be charging Walcott over the gesture he made towards Tottenham fans but confirmed they had 'reminded him of his responsibilities'.