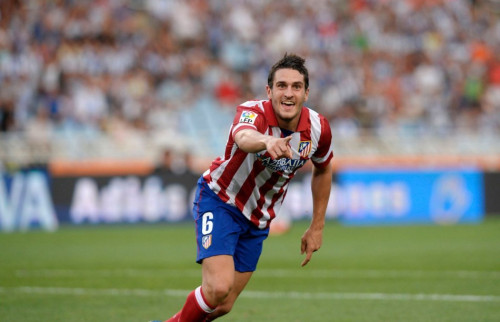 Manchester United and Arsenal's hopes of luring two of Atletico Madrid's most sought after players away from the club in January have been all but ended.
Despite suggestions from the player that he will only leave the Vicente Calderon if his club choose to cash in on him, midfielder Koke remains one of David Moyes' primary targets this month as he aims to a strengthen his side after a lacklustre first half of the season.
Brazilian-born forward Diego Costa has been heavily linked with a move to the Emirates Stadium with Arsene Wenger's need for another striker now more urgent than ever following the news that Theo Walcott will miss the remainder of the season through injury.
But despite both Premier League clubs willing to break the bank for his two players, Atletico sporting director Jose Luis Perez Caminero bluntly dismissed the prospect of both players leaving any time soon.
"Diego Costa signed a new contract with us, he was not thinking about going," Caminero was quoted as saying by Marca.
"Koke? He will be with us for many years, I am sure."
In a further blow to Moyes' transfer plans this month, Real Madrid manager Carlo Ancelotti has insisted none of his players will be leaving the Santiago Bernabeu this month.
The former Everton boss attempted to bring full back Fabio Coentrao to Old Trafford on the final day of the transfer window during the summer until the La Liga giants pulled the plug on the deal at the last minute.
United have also been tentatively linked with a move for winger Angel Di Maria whose future at the club has also fallen in doubt given the rapidly rising influence of Gareth Bale.
Reports have suggested the Premier League champions will relaunch their efforts to sign Coentrao and also investigate the possibility of bringing Di Maria to Old Trafford.
But should Moyes harbour any desire of bringing the duo to the Premier League it appears it would have to wait until the summer.
"No players are leaving and we're not going to sign anyone," Ancelotti was quoted as saying in the Guardian. "The window is closed for us."