Per Mertesacker has revealed that he has completely settled into life at Arsenal, with the defender having to adapt from being in his home country of Germany to adjusting to life in England.
Mertesacker made the move to the Emirates last summer on deadline day, and though he starred for Werder Bremen, it seemed to take the Germany international a little longer than some of his fellow new signings to adjust to the English style of football and help create a strong back four for the Gunners.
But as Arsenal are on the cusp of recovering from their poor start to the season, coming close to Champions League qualification, the 27 year old insists that he now feels at home in north London and is ready to repay Arsene Wenger's faith.
"Sometimes I felt like it was very hard, especially when I first came here," he told the official Arsenal website.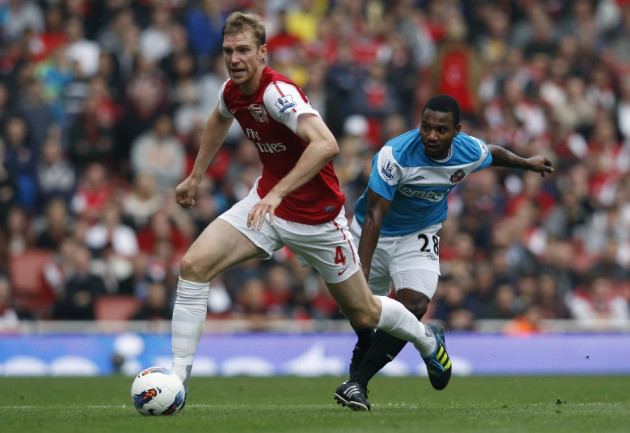 "It was tough to settle down [and I was] very quickly into the first squad. There was sometimes a lack of performance but I think you have to go through that to improve yourself.
"I am very comfortable here now, and very proud to be with this club."
While Mertesacker admitted he found the move to Arsenal difficult at first, he also argued that this was the reason he came to the Premier League, with the star hoping to play against the best in the world and test his skills.
"In general you are playing the best players in the world," he explained. "You always have to perform at a high level.
"It is at a constant level and that is what makes the Premier League so good and so sharp."
Arsenal face West Brom this Sunday, but Mertesacker will miss the match, flying to Sardinia with the Germany squad on Friday.
The defender hasn't featured for the Gunners since February 11, but has still been chosen in the preliminary squad for the national side in their 2012 Euros campaign.
"We spoke with Per and he has put in a lot of effort in getting back to fitness," Germany coach Joachim Loew told the BBC.
"I spoke to him and his coach Arsene Wenger yesterday. We agreed that he will fly with the squad to Sardinia on Friday.
"Wenger said he is not ready to play yet so he has welcomed us taking him with us for training.
"He has got to get back to competitive levels of fitness and we hope to get him there over the coming weeks."
Without Mertesacker, Arsenal have struggled in their defensive line-up, and Wenger will be hoping that he isn't injured further while training with Germany.