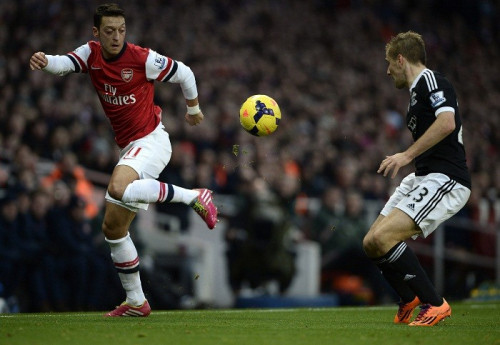 Arsenal star Mesut Ozil believes Bayern Munich are a much better side than their treble winning campaign last year.
The Gunners face the Bundesliga winners for the first leg of the knockout stages of the Champions League fixture at the Emirates on 19 February, before making a trip to Germany for the return leg on 11 March.
Arsene Wenger's side took on Bayern in the same stage of the competition last season as the two-legged tie end in a 3-3 draw, only for the German club to progress in the Champions League on away goals.
The first leg saw saw Arsenal suffer a 3-1 defeat at home before registering a 2-0 victory at the Allianz Arena in the return leg. However, Ozil was not a part of the north London side that took on the Champions League winners last season.
The former Real Madrid midfielder admitted that he is eagerly waiting for the fixture against Bayern as he claims that "anything is possible" in deciding the outcome of the two legs.
"I have huge respect for Bayern. They are even better than they were last year. Anything is possible over two legs. I'm the kind of player who loves games like these. We're not going to hide," the Express quoted Ozil as saying.
Meanwhile, Arsenal have ended their two-match winless streak with a 2-1 victory over Liverpool in the fifth round FA Cup tie at the Emirates.
The victory comes after Arsenal suffered a 5-1 defeat to Liverpool in the league after a goalless draw against Manchester United at home. Wenger was delighted with his players' performance during the Gunners' latest win.
"It was vital to respond to the disappointing performance at Liverpool last week. I'm very pleased with the intensity, commitment and determination. You could feel a clinical desire in my team to take every opportunity to kill them," Wenger explained.
"It was a fantastic FA Cup tie between two good teams. Many people questioned the FA Cup but today it delivered a great match. Liverpool are a very strong team. They had some chances but we had some very good chances as well."
"They were in a position where they had to take the initiative because they were 2-0 down. They had to throw absolutely everything forward and they are good enough to create chances against any team," he concluded.