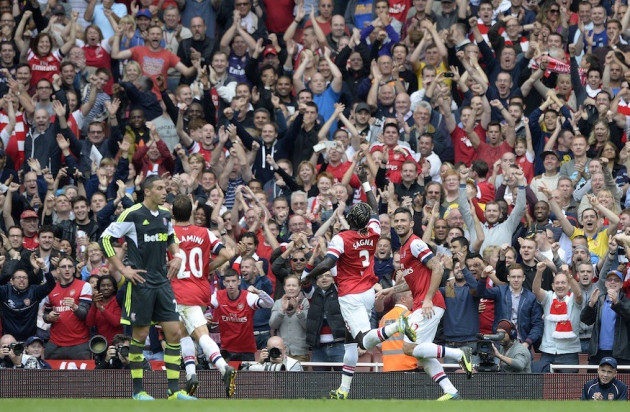 Bacary Sagna has rejected a new one-year deal with Arsenal and will likely seek an exit from the club when his contract expires next summer.
Sagna has reportedly been offered a contract extension but the 30 year old wants better wages than his current £60,000 per week, which the Gunners are refusing to offer.
And the Daily Mail is reporting that Arsene Wenger is now concerned that Sagna will leave the club next summer for free if he's unable to come to an agreement before that time.
Paris St Germain, Monaco, Galatasary and Fenerbache are all believed to be interested in the France international who has a wealth of experience at the very highest level.
The paper claims that Arsenal are at the point where they are starting to search for a replacement and chief scout Steve Rowley has been tasked with the duty of finding someone who can bring consistency to the backline without Sagna's presence.
Exit rumours were surrounding Sagna in July but the right-back insisted that he wants to stay in north London and help Arsenal win the league.
"I enjoy playing for Arsenal," he said at the time. "I love my team and I always give my best.
"I'm still here. Many people were talking about me going back to France but I'm still here and I'm looking forward to a big season with Arsenal."
But with the club unable to meet his demands Sagna might well be looking for another home next summer.
Arsene Wenger confirmed that the defender is out of action for the next three weeks with a hamstring injury but already appears to be sizing up Carl Jenkinson as a possible replacement, telling reporters last week: "He has a hamstring injury and will be out for 3 weeks. Its always a blow because he Sagna is a complete defender.
"For us it is a handicap but Jenkinson is growing as well as a player."