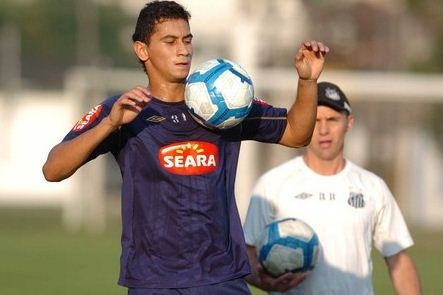 A number of top Premier League clubs, including Arsenal and Manchester United, are monitoring Santos' Brazilian midfielder Paulo Henrique Ganso, ESPN reports.
An earlier report in the Metro suggested the 22-year-old playmaker has refused to extend his contract with the Brazilian club, leading to speculation he would try and force a move to Europe. That has alerted several clubs, among them Roman Abramovich's Chelsea.
Ganso's team mate Neymar has also been linked with a high-profile move to a top European club and the pair will, it is rumoured, follow in the footsteps of compatriot Oscar, who has reportedly all but completed a move to Chelsea.
Oscar was, reports suggest, also a target for Wenger and having lost out on one Brazilian youngster, Wenger is determined not to be beaten again. He has also reportedly made a bid for another Brazilian target - midfielder Paulinho.
"Arsenal are interested, yes, but there are others. He has a £38m buyout clause in his contract but Santos will take less, much less - not a fee that will be prohibitive to a deal in England. The reason is that he doesn't have long left on his contract, two years at the most, and he is not signing a new one, so it's time to sell him," ESPN quoted a source as saying.
Meanwhile, wantaway Arsenal skipper Robin van Persie has declared a minimum wage requirement for clubs interested in his service. The Sun reports the Dutch striker will only consider offers above £10m per year. The player's agent, Kees Vos, met Italian Serie A champions Juventus and has revealed the 28 year old Dutchman wants a salary of £195,000 per week.
Juventus have a long-standing interest in van Persie and were one of the first teams to make a bid - of a relatively miserly £8m. Since then there have been several moments of indecision on the Turin-based club's part, including statements, from director-general Beppe Marotta, describing the signing of the striker as "a dream". However, it now seems they are back in the race.
Robin van Persie's alleged wage demands may not trouble either of the wealthy Manchester clubs, considering Wayne Rooney is paid £200,000 and Yaya Toure £225,000 but the question both clubs will be asking is whether so high a wage is realistic for a player with as poor an injury record as van Persie's.
Finally, there is speculation that the Gunners' new signing Lukas Podolski will be handed van Persie's No 10 shirt, the strongest indication van Persie will not be at the club for the start of the new season, particularly since it has also been revealed that the striker has been omitted from the Gunners' 24-man squad for the pre-season tour of Asia.
In any case, Wenger continues to express his willingness to keep van Persie.
"Van Persie is one of the best strikers in the world, if not the best, and my desire is to keep him," said Wenger, according to a Telegraph report.
Arsenal will play Premier League champions Manchester City in a friendly at Beijing's Olympic "Bird's Nest" stadium on 27 July.