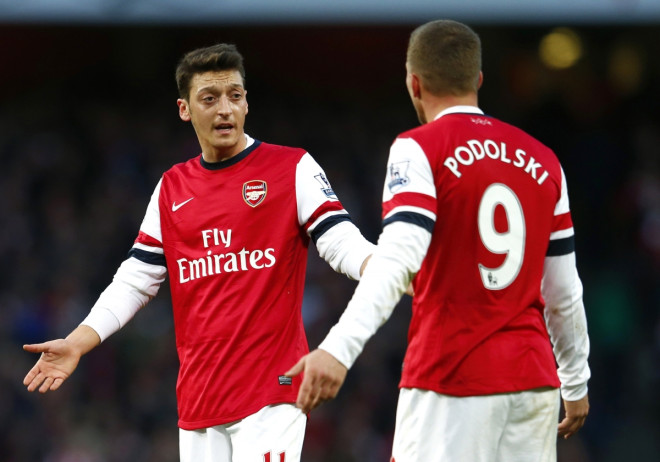 Arsene Wenger believes the Premier League's physicality is the reason behind Mesut Ozil's struggle this season and has backed him to be a success next season.
The German international arrived at the Emirates for a club-record transfer fee of £42.5m from Real Madrid last summer.
The 25-year-old had a bright start to his Arsenal career. However, his form has faded in recent times, while he has missed the north London club's last seven games due to a hamstring injury.
Wenger confirmed the former Madrid star will be fit for the Hull City clash this weekend. The Frenchman wants Ozil to finish the campaign strongly and has backed the German midfielder to shine for Arsenal next season.
"He has gone through a difficult spell because physically he was not as present as you would expect him. I can understand the judgement when... you wanted more of him but I think you are right that you see his quality when he is not there," Wenger told Arsenal's official website.
"He is a quick player and agile. He can get out of tight situations, so sometimes these players get you out of tight situations and open up to do something interesting behind that. When they are not there, you don't get out of the situation and you lose the ball."
"That's what I wish [is that he finishes the season strongly]. He has prepared well and it depends how quickly he will come back into the pace of the game. The first season is the season in which you adapt and then you know what will happen and you go into it."
"And I believe that he will know better his partners, he will know better the league and the potential is absolutely fantastic. He will improve with goals and assists, and his presence in the game."
"I think he has great physical potential and that will come out. He felt the difference between Spain and here... sometimes he was rested in Spain because he said in Spain, when you are 2-0 up, when Real Madrid are 2-0 up, what strikes him is that the teams give up. They know they will lose the game.
"And he said what is the most difficult for him here is that at 2-0 up, the teams fight like mad to come back. And he felt that that was the main difference, it is that you have to fight until the last second of the game," he said.