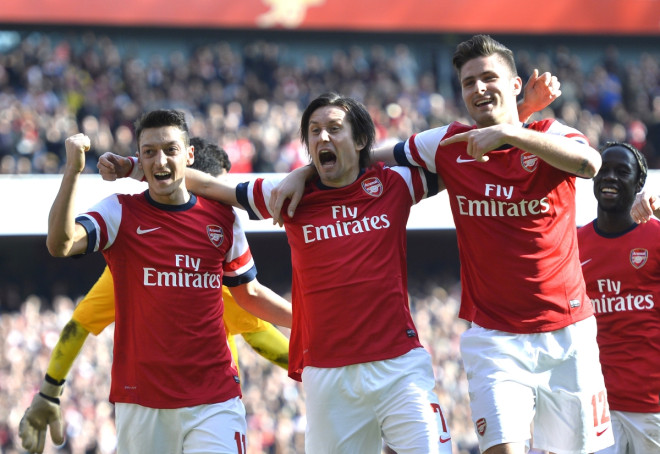 Arsene Wenger believes that Mesut Ozil can prove his detractors wrong with a world class performance against Bayern Munich at the Allianz Arena.
The German has been put under a lot of criticism in recent weeks, not least for his penalty miss against the Bundesliga leaders in the first leg of the round of 16 tie at the Emirates Stadium .
The 25-year-old won the penalty with consummate ease, but failed to outdo his former academy teammate Manuel Neuer, who caught Ozil unawares with his anticipation.
The midfielder was eventually dropped against Sunderland and Stoke City in order to give him a break and the player has come back recharged and put in a performance worthy of the £42.5m fee he was bought for from Real Madrid last summer.
The German scored one and assisted another to seucre a comfortable 4-1 victory over the Merseyside club and set up a clash with Wigan Athletic at the Wembley in the semi-finals next month as they look to eradicate their nine season trophy drought.
Wenger believes that Ozil has recovered from the shock of missing a penalty against Bayern and is roaring to show his credentials when the north London club visit the home of the German Champions in mid week.
The Gunners have happy memories from last season when they defeated the same opponent 2-0 but were unfortunate to crash out on away goals.
"I think it affected him mentally too much. It was not only physical, it was mental. He had the feeling he let the team down at a very important moment of the game," Wenger said.
"It affected his performance very much. Psychologically sometimes the wound is like a physical one. You can talk and talk and talk, but it takes time. You just have to leave it to time. I think he is over it. He has a good opportunity to show on Tuesday how good he is.
"He was absolutely in a different physical shape (against Everton), even if he played nearly 90 minutes last Wednesday against Chile. It was quite a tough game but sometimes when you have two tough games like that it helps you to recover.
"It was certainly important to him to score and to the team as well. I like the way he finished. It was calm, in a convincing way. He made great runs and was absolutely outstanding from the first to the last minute. He wants to score more goals, I am convinced of that," he concluded.