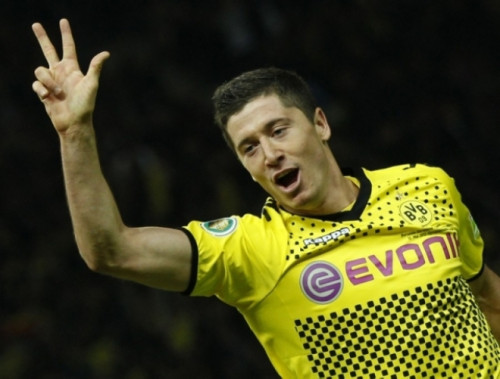 Arsene Wenger has revealed that he was keeping a keen eye on Robert Lewandowski before his transfer to Bayern Munich but insists that it was always a long shot because the Pole had made up his mind to shift to the Allianz Arena.
The Polish international signed a pre contract with the Bavarians and will join the Champions of Europe on a free in the summer from arch rivals Borussia Dortmund who are fading away amid Bayern's growing prominence.
Pep Guardiola's side have already bought Mario Gotze from Dortmund last summer and with Lewandowski's arrival imminent, are set to open up a major gap between themselves and the third placed team in the Bundesliga.
Meanwhile, in the Premier League, Wenger is finding it very difficult to find a striker who will have an instant impact on their league season and make them serious contenders for the title. The Gunners are back on top of the league with a one point advantage over Manchester City and two over Chelsea.
However, their job has been made harder by the fact that Olivier Giroud, who has started in almost every game for the Gunners this season, is out with an ankle injury. Theo Walcott, who has five goals in five appearances in the league also faces a month in the sidelines with a feared strained ligament.
Wenger confessed that he is still in the market and went on to add that he had eyes on Lewandowski but the striker had committed to move to Bayern during the Euros.
"Yes we looked into Lewandowski but honestly he signed for Bayern one and a half years ago, everyone knows that. They can only make it official now because he is in the last six months of his contract.
"We are like everyone, we look out there and see what is happening. If an opportunity turns up, you know as well that all the big players are at big clubs at the moment and they go for important targets. Unless you have a club in a desperate financial situation it will be difficult," Wenger confirmed.