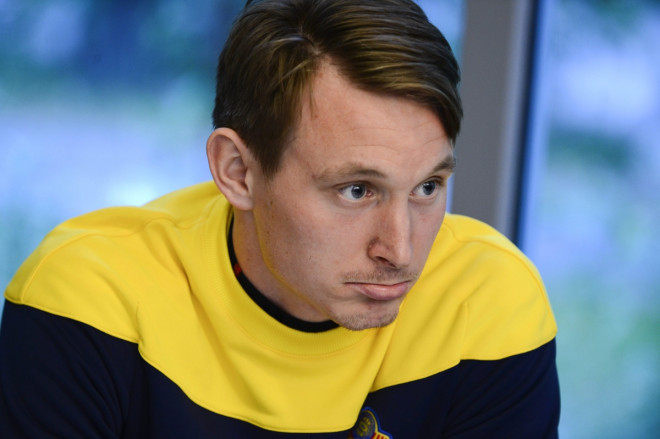 Kim Kallstrom faces a baptism of fire should he be handed his Arsenal debut in the forthcoming north London derby against Tottenham Hotspur.
The Sweden international was the Gunners' only piece of business during the January transfer window, joining the club on loan from Spartak Moscow until the end of the season.
Wenger's plans were immediately undone however as the 31-year-old suffered a back injury during his first training session but the midfielder is closing in on a return after telling the Swedish FA's medical team that he is "close to being fit," the Independent report.
Arsenal take on Everton in their FA Cup quarter final tie on Saturday afternoon and should that match come too early for Kallstrom, the Swede will be in line to make his first appearance for the Gunners' against Tim Sherwood's side on March 16.
Wenger admitted that he was aware of Kallstrom's back problem before finalising his move, but felt he had no alternative during a time when both Jack Wilshere and Aaron Ramsey were struggling with injury, while Mathieu Flamini faced a three match suspension.
"I would not have signed him if we had two or three more days to do something, but it was Friday night at five o'clock, so it was [a case of] you [sign] nobody or you do it under these conditions, Wenger said following the midfielder's setback.
"I decided to do it because we might, because of the number of games we have now in February, we might need the players in March or April. There is a possibility [that he may not play] but as well there is the possibility that he scores us the winning goal that might be vitally important."
Welsh international Ramsey is also nearing a return having been side-lined with a thigh injury since Boxing Day. Although there is no set date for the 23-year-old's return, reports suggest he could also feature against Tottenham in 11 days.
Arsenal were handed further boosts on Tuesday as Per Mertesacker and Thomas Rosicky both signed new contracts with the club. Reports suggest the club could soon follow up on that by confirming new deals for Ramsey and Santi Cazorla in the coming weeks. However the future of Bacary Sagna remains in doubt with little sign of the Frenchman signing a new deal.