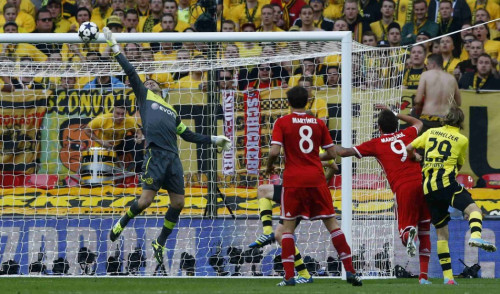 Arsene Wenger has confirmed that the Gunners are keeping a close eye on Bayern Munich striker Mario Mandzukic but believes that the swoop will not be possible till the summer.
Bayern have announced the signing of Robert Lewandowski from Borussia Dortmund and the Pole will join the club next summer which will allow Mandzukic to make the move to north London if the Gunners pursue their interest.
Arsenal are currently woefully short up front, with Olivier Giroud, Nicklas Bendtner and Theo Walcott all out injured. Wenger is unwilling to splash the cash this January owing to the lack of quality talent available but with his options dithering, he may look to bring in a few new faces or risk losing his chance to end Arsenal's trophy drought.
The Gunners are currently top of the pile, one point ahead of Manchester City and have a viable chance of capturing the top spot this season after eight frustrating years which did not yield a single trophy.
The Frenchman is on the lookout for Mandzukic but believes that the player may be sold next summer when they have a proper backup in place. The striker has scored 10 goals in the league this season from only 12 appearances and is still a major part of Pep Guardiola's plans for the current season.
"Lewandowski is at Dortmund until the end of the season and they will not sell Mandzukic now -- maybe at the end of the season," Wenger said.
Wenger revealed that he is the market for a player in the same mould as Serge Ganbry who can come in and have an impact without setting the world alight.
"We are like everyone, we look out there and see what is happening. If an opportunity turns up, you know as well that all the big players are at big clubs at the moment and they go for important targets. Unless you have a club in a desperate financial situation it will be difficult. If we find someone like [Serge] Gnabry at that age when no-one knows them, then maybe. But I just said many times we don't rule anything out."