Former Arsenal striker Alan Smith believes Arsene Wenger's alleged side-lining of Steve Bould is unforgiveable and that the assistant boss could be key to helped rejuvenating the club
Defeat to Bradford City in the League Cup quarter final has brought to a head a number of issues at The Gunners, not least the relationship between Wenger and Bould, which reports suggested had seen the latter marginalised during training.
Bould was viewed as a significant figure in the club's three successive domestic clean sheets at the start of the season, and Smith, who played with him during his eight-year career in north London, says Wenger must become a better delegate to help Arsenal return to the peak of their powers.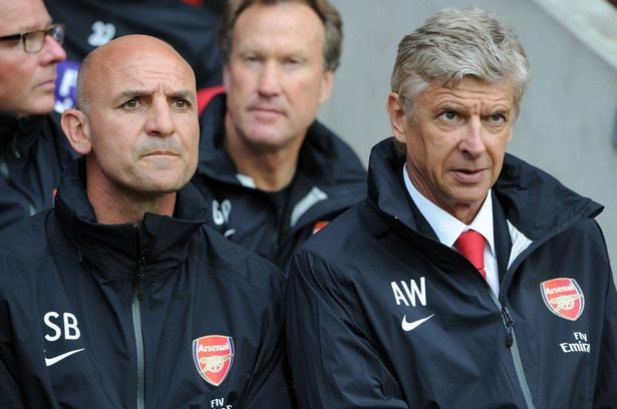 "Having already been cast adrift in mid-table and stripped of their most prized assets, the suggestion now is that Steve Bould has been marginalised at the training ground," Smith told The Daily Telegraph. "If that really is the case that is unforgivable.
"Arsène certainly cannot leave it to the players to sort it out themselves: that might have worked when he was working with exceptional talents such as Patrick Vieira, Sol Campbell and Thierry Henry, who were all blessed with enough skill and personality to identify issues and solve them on the field.
"But this group is not like that. They need help from their coaches but they do not appear to be receiving it.
"Arsène has never been a good delegator. He has always liked to make the decisions, to be the man in control of everything: he was even consulted on the design of the buildings at Arsenal's training ground. Virtually everything at the club runs through him.
"I don't think he has ever been the kind to subject a defence to the kind of repeated, monotonous drills which were so beloved by George Graham when I was a player at Arsenal."
Smith adds that Wenger has been slow to adapt to the modern-day demands of football manager, and compares his strife with that of Sir Alex Ferguson, who has consistently employed hands-on coaches to assist him throughout his 26-year managerial tenure at Manchester United.
And if the Frenchman has any ambition of dragging Arsenal back into contention for a trophy this season then Bould must be employed in a prominent role again.
"Steve Bould is perfectly placed to instill some of that discipline into the current Arsenal squad but the rumours now suggest he has been frozen out," he said.
"Maybe Arsène's nose was put out of joint by the fact Steve was getting so much praise at the start of the season, when Arsenal were keeping clean sheets: you could certainly sense he was a bit vexed when he was asked about it in his TV interviews. Either way, it is a major problem."
"This is not a demand for Arsène to be sacked: the man has achieved too much at Arsenal for that. But it wouldn't surprise me if he was to look seriously at his position in the summer, especially if they were to finish sixth or seventh."