Swansea City defender Ashley Williams will escape retrospective action for kicking the ball at Manchester United's Robin van Persie unless referee Michael Olivier opts to alter his perception of the incident in his post-match report.
United boss Sir Alex Ferguson has claimed Van Persie could have been killed and has demanded Williams be banned by The Football Association.
However, referee Olivier acted upon the incident, issuing Williams and Van Persie yellow cards following the preceding fracas between both sets of players, and unless, having seen the episode again, the official states his actions were inadequate in his post-match report, no additional action will be taken.
But Ferguson, whose United side could only draw 1-1 with Swansea as their lead at the Premier League's summit was trimmed to four points, could face an FA charge of misconduct after lambasting Olivier for his performance at the Liberty Stadium.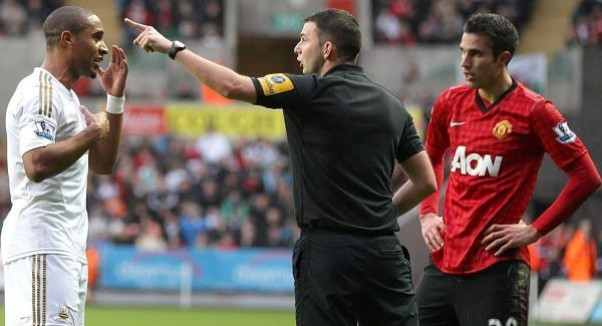 "The referee has had one of those days we're not getting anything off him I thought he had a shocking performance today," Ferguson told Sky Sports.
"I know he's a young referee but I was disappointed in that performance I really was, and the Van Persie situation he clearly sees the incident; he could have been killed.
"I think the FA has got to look into it, irrespective of him having a yellow card he should be banned for a long time because it's the most dangerous thing I've seen on a football field for many, many years.
"Absolute deliberate, the whistle has gone the game has stopped and he's done that right in front of the referee a foot away from the player he could have really killed the lad it was disgraceful act by the player he should be banned for a long, long time."
Williams, 28, has defended his actions after striking Van Persie, who joined United from Arsenal in the summer transfer window. with the ball, stating the act came out of frustration rather than out of intent to hurt the Dutch striker.
"I've seen it on the TV and everyone is going to have their opinion, from my point of view I tried to apologise on the pitch but obviously it all flared up," Williams told BBC Sport.
"I've kicked the ball away in frustration; I've obviously not tried to hit him square on the head. I tried to apologise but didn't get the chance.
"I understand exactly why he's angry, I've be angry if the ball hit me on the head at that pace but I was trying to say I've lashed the ball away in frustration and it's hit him on the head. I understand why he's angry."