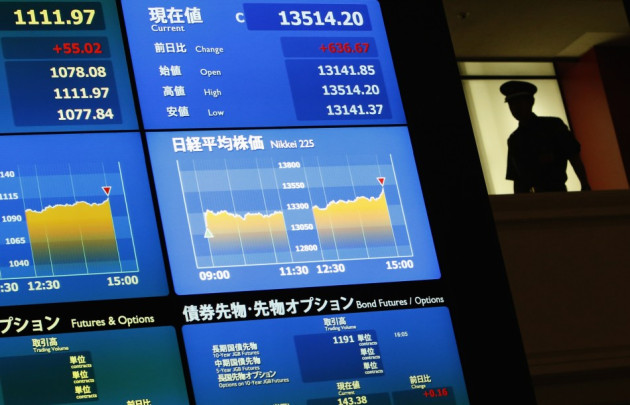 Asian markets bounced back on Friday after hitting new 2013 lows on Thursday, boosted by a rally on Wall Street following positive US labour market and retail sales data that suggested the world's leading economy was improving, albeit at a slower pace.
The Nikkei, which had closed 6.35% lower on Thursday, was up 3.51% or 436.35 points to 12881.73, boosted by exporters' stocks. Exporters' stocks gained despite a weaker US dollar, trading 0.07% lower at 95.3000 at 2:28 pm Japanese time. A stronger yen decreases the value of exporters' overseas earnings when repatriated.
The Hang Seng moved up 1.05% or 219.84 points to 21106.88.
Australia's S&P/ASX added 1.84% or 86.20 points to 4782, boosted by mining stocks that rose after iron ore prices gained.
The Shanghai Composite inched up 0.26% or 5.73 points to 2154.08.
South Korea's Kospi inched up 0.09% or 1.66 points to 1884.39.
In Japan, the government announced several steps to boost economic growth on Friday -- new special economic zones (SEZs), possible tax breaks to companies that invest in new facilities or equipment, participation of women in the workforce, among others. The world's third largest economy grew at an annualized 4.1% in the January-March quarter, beating analyst expectations.
On Wall Street, stocks ended higher on 13 June, after posting losses for three sessions in a row, boosted by positive economic data.
Initial claims from Americans asking for unemployment benefits from the state dropped by 12,000 to a seasonally adjusted 334,000, closer to the lowest level in five years, government data showed. On the other hand, retail sales in the US rose to a seasonally adjusted 0.6% in May, higher than the market expected 0.5% increase. But a surprising fall in US import and export prices pointed to sluggish economic growth in that country.
The Dow Jones Industrial Average ended above the 15,000 level, gaining 1.21% to 15,176.08. The S&P 500 added 1.48% to 1,636.36 while the Nasdaq Composite gained 1.32% to 3,445.36.
A Wall Street Journal report, about how Fed chief Ben Bernanke could use the 18 June meeting to tell investors that a potential pruning of the central bank's bond purchases would be gradual, and that it would not lead to hikes in short-term interest rates, also helped American indices on Thursday.
In Tokyo, machinery maker JTEKT surged 7%, while sports bike maker Yamaha jumped 6%.
Kawasaki Heavy Industries, Japan's second largest maker of heavy equipment, climbed 3.9% on news that the company's board had sacked President Satoshi Hasegawa and shelved merger talks with Mitsui Engineering & Shipbuilding. Mitsui's stock was down 3.5%.
Shares of watchmaker Casio Computer gained 4.2%. Shares of automobile manufacturer Mazda Motor gained 3.5% while rival Suzuki Motor bounced back a little over 3% .
Realty player Mitsubishi Estate's stock jumped 4.2% while larger rival Mitsui Fudosan gained 3.8%.
In Hong Kong, index heavyweight HSBC Holdings moved up 0.8%.
Refining giant China Petroleum & Chemical Corp's (Sinopec) stock inched up 0.9% on news that it was in talks with Russia's ONA Novatek to pick up a stake in a $20bn liquefied-natural-gas project.
Realty firm Cheung Kong Holdings' stock gained 2.3% while rival China Overseas Land & Investment added 1.7% in a weak property sector.
In Sydney, Gindalbie Metals' stock surged 8% while Fortescue Metals and Arrium jumped over 5%. Anglo-Australian miner Rio Tinto's stock shot up 3.3% while gold miner Newcrest Mining added 1.2%.
Banking stocks gained on a stronger Australian dollar. National Australia Bank added 3.6%, Australia & New Zealand Banking Group rebounded 2.5% and Westpac Banking added 2.1%.
In Seoul, index heavyweight Samsung Electronics gained 0.8% while GS Engineering & Construction inche up 0.5%. Automobile manufacturer Kia Motors' stock gained 1%.
In Shanghai, China State Construction and Long Yuan Construction gained 1.4% and 1% respectively.