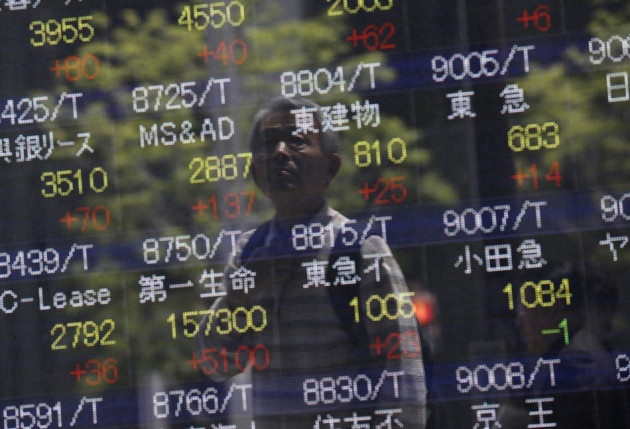 Most Asian markets outside Shanghai were down this week with the Nikkei shedding last week's gains and ending the week's trade at 14612.45, a 4.35% plunge in the five days to 24 May.
Equities in the world's third biggest economy were pulled down during the week, tanking 7% on 23 May, by news that the US Federal Reserve could decrease its asset buys in the coming months and by Chinese data that pointed to contracting factory activity in that country. China, the world's second largest economy, is a major export market for Japan.
US Fed chief Ben Bernanke, in his testimony to Congress, suggested the US central bank could step down its bond buying programme in the "next few meetings". His comment slammed stocks on Wall Street, which extended their losses when minutes of the Fed meeting showed that several Federal Reserve officials were in favor of slowing down bond-buying as early as the June meeting.
The Fed's bond-buying programme has helped stimulate global markets for a while now.
On 22 May, data from China showed that factory activity had contracted in May, a first in seven months. HSBC's preliminary purchasing managers' index (PMI), which surveys purchases made by factory managers, fell to 49.6 in May from a final 50.4 in April. A reading below 50 signals contraction.
Asian markets began the week on a relatively higher note, supported by a strong rally on Wall Street on 17 May on signs that the US economy, the world's biggest, was improving.
But Fed fears and surprisingly poor Chinese manufacturing activity, which introduced demand concerns, fuelled a sell-off in Asia.
Australia's S&P/ASX 200 dropped 4.18% during the week, ending at 4,983.50, pulled down by the resources sector. The Hang Seng lost 3.26% and ended the week at 22, 618.67. In Seoul, the Kospi was down 0.72% to 1,973.45.
However, the Shanghai Composite inched up 0.14% in the five days to 24 May, closing the week at 2,288.53.
In the coming week, investors will be tracking Chinese manufacturing PMI due on 31 May.
In North America, the US will put out quarterly growth data alongside initial jobless claims figures during the week. Investors will also be following the Canadian interest rate decision due 29 May, expected to remain unchanged at 1%.
Japan will release annual retail sales data, the top most indicator of consumer spending in that country. Markets have forecast a 0.4% drop in yearly retail sales.
Australia will put out quarterly construction activity data, forecast to rise 1%, following a 0.1% drop in building activity in the fourth quarter of 2012.