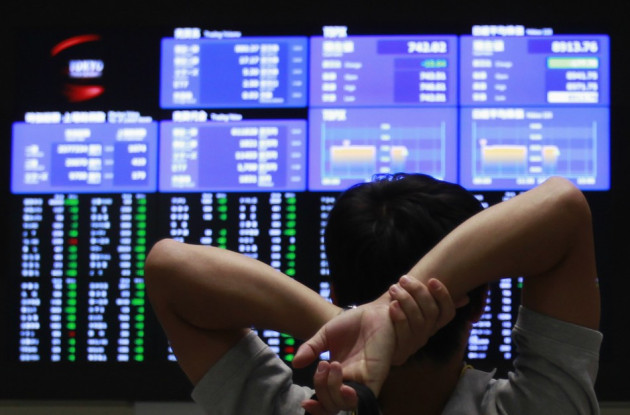 Asian markets outside Japan have ended in the red as China's announcement of new leadership failed to cheer sentiments, while Japanese stocks gained on news of elections in the country.
Japan's Nikkei ended 1.90 percent or 164.99 points higher to 8829.72 while South Korea's KOSPI dropped 1.23 percent or 23.32 points to 1870.72.
China's Shanghai Composite index fell 1.22 percent or 25.13 points to 2030.29. Hong Kong's Hang Seng was down 1.55 percent or 333.06 points to 21108.93.
Opening after a holiday, India's Bombay Stock Exchange Sensex traded 0.91 percent or 168.94 points lower to 18449.93 at 8:48 GMT.
China's meeting to elect its new leaders for the coming decade concluded and as expected Xi Jinping was selected to take over from Hu Jintao. Investors are keeping a close watch on the government for early signs of reforms or policy changes to bolster the country's economy.
Political news remained in focus in Japan as well. The country's Prime Minister Yoshihiko Noda said he will dissolve the Japanese parliament's lower house and hold elections on December 16. The yen dropped on the news and markets gained on expectations that the opposition leader, Shinzo Abe, known for his support for monetary easing measures, could come to power.
"The date of the dissolution of the Lower House had been unclear for some time following prime minister Noda's statement in August that he would call an election soon," said analysts at Nomura Research
"The decision to hold a general election has removed this uncertainty, and we take a positive view as we are now in a position to look for progress in economic policies."
Global economic concerns continued impact investor appetite as well. The "fiscal cliff" continues to threaten the US economy and although analysts believe that lawmakers will reach a consensus to avoid the problem, investors remain cautious on the implications on markets.
Major movers
Industrial stocks ended highest in Tokyo. Non-ferrous metal smelters maker Toho Zinc gained 11.67 percent while ball bearings manufacturer Minebea ended 8.24 percent higher. Shares of property contractor SHIMIZU were up 7.93 percent.
Construction firm Shinil Engineering and semi-conductor testing devices maker D I Corporation were the worst performers in Seoul, down 14.97 percent each.
In China, transportation firm Shanghai Ya Tong and property developer Join. in Holding were the major losers, ending 8.42 and 8.36 percent lower.
Financial firms extended losses in Hong Kong. China Construction Bank and Bank of Communication ended 2.74 percent lower each.
Metal stocks traded lowest in India. Shares of Tata Steel were down 2.67 percent while those of Jindal Steel and Power dropped 2.66 percent. Hindalco Industries slipped 2.07 percent.