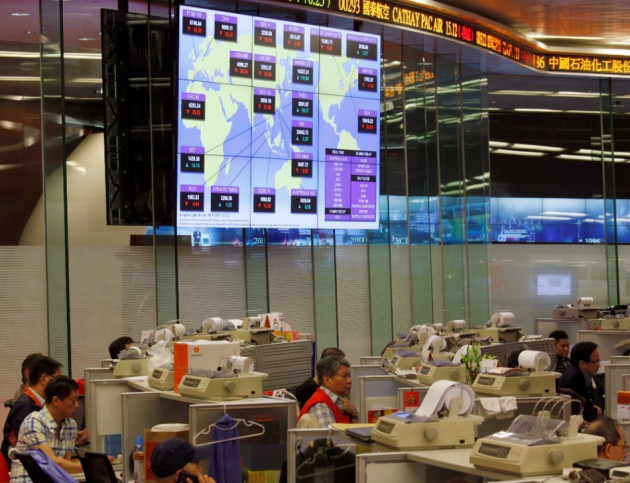 Asian markets outside Japan and Australia traded higher on 18 November, with Chinese equities leading the pack, boosted by upbeat investor sentiment following China's reforms push.
Hong Kong's Hang Seng finished 2.73% higher or 627.91 points at 23,660.06.
The Shanghai Composite finished 2.87% higher or 61.39 points at 2,197.22.
India's BSE Sensex finished 2.23% higher or 453.95 points at 20,853.37.
South Korea's Kospi finished 0.26% higher or 5.17 points at 2,010.81.
The Japanese Nikkei finished 0.01% lower or 1.62 points at 15,164.30.
Australia's S&P/ASX finished 0.31% lower or 17.00 points at 5,384.70.
On 15 November, Beijing unleashed a flurry of detailed economic and social reform plans in a bid to secure the country's future growth.
Beijing said it plans to cut red tape by scrapping residency restrictions in small cities and townships, while also integrating urban and rural social security systems. This includes the establishment of an exchange market for rural property rights transfers.
China also pledged to accelerate capital account convertibility and push ahead with an environmental tax.
Among other economic reforms, China plans to set up a debt risk alert mechanism as well as standardising the way local and central government debt is managed. Property tax and resource tax are also tipped to be accelerated.
Deutsche Bank said in a note to clients: "The reform package will have a long-lasting positive impact on China's equity market outlook".
The German bank also forecast that the MSCI China index would jump some 20-25% over the next 12 months.
Evan Lucas, market strategist at IG, said in a note to clients: "The plenum talks in decades, not overnight. Consumption demand will remain; Australian resources will remain a consumption target of Chinese users along with Australian services and agricultural goods. The hard landing some are predicting will most likely be a bump".
Asian stock markets outside Australia and India finished higher during the week ended 16 November. The Japanese Nikkei led the pack while India's Sensex trailed.
Wall Street Up
On Wall Street, indices ended higher on 15 November on expectations that the Fed would continue buying bonds beyond December, 2013. The Dow and the S&P 500 finished at record highs.
The Dow finished 85.48 points higher at 15,961.70.
The S&P 500 closed 56 points higher at 1,798.18.
The Nasdaq ended 13.23 points higher at 3,985.97.
Tim Radford, global analyst at Rivkin Securities said in a note to clients: "Helping drive US stocks higher Friday was strong gains from oil giant Exxon Mobile on news Warren Buffet has taken a large stake in the company".
For the week ended 16 November, the Dow finished 1.3% higher, the S&P 500 closed 1.6% higher and the Nasdaq ended 1.7% higher.
Company Stock Movements
In Hong Kong, brokerage firm Citic Securities soared 13%.
China Merchants Bank surged 9.4%, Agricultural Bank of China moved up 5%, Bank of China added 3.6% and Industrial and Commercial Bank of China (ICBC) shot up 2.6%.
Ping An Insurance jumped 9.5% while rival China Life surged 8.7%. Infant formula maker Biostime International gained 3.4%.
In Mumbai, Tata Steel added 2% after it said its July-September consolidated net profit hovered at 9.17bn rupees, up from 3.64bn rupees a year ago.
Investors were also bullish on the stock on expectations of higher steel demand from China, following the country's reforms push.
In Sydney, Australia & New Zealand Banking shed 0.6% while Commonwealth Bank of Australia was down 0.6% as well.