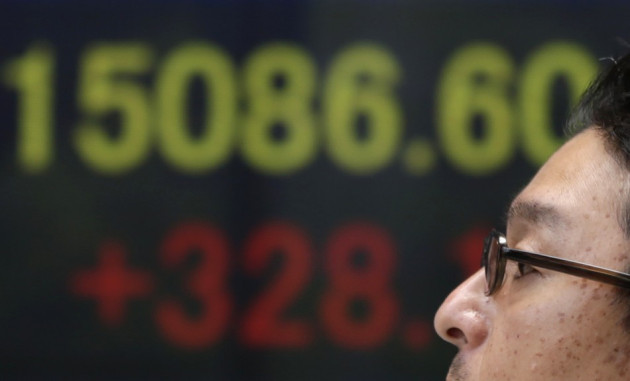 Most Asian markets except Australia advanced in the week, taking cues from a string of positive US data and a weakening yen. Japan's Nikkei breached the psychologically important 15,000 mark and closed the week's trade with a 2.5% gain, at 15,138.1.
A tumbling yen that hit a 4-1/2 year low at the beginning of the week boosted Japanese stocks, which shot up to a 5-1/2 year high mid-week as exporters' stocks rallied on the back of a weakening yen.
Other Asian stocks opened lower but posted gains towards the close of the week, owing to an unexpected rise in US retail sales and better-than-expected GDP data from Japan.
The Kospi rose 2% during the week and closed at 1,986.8. The Shanghai Composite moved up 1.5% to close at 2,282.8. The Hang Seng gained 0.4% and ended at 23,082.7.
But the S&P/ASX 200 lost 0.4% to finish off at 5,180.8. The benchmark Australian index posted its first weekly loss in four weeks, partly owing to a weakening Australian dollar.
Reports from the US about the Federal Reserve possibly rolling back its bond-buying programme by this summer pushed the dollar to an almost three-year high. The greenback also hit a new high versus the yen, breaking the 103 yen level, its highest since October 2008.
The week ahead will see Fed Chairman Ben Bernanke testify to the Congress, on 22 May.
In Europe, the IMF is expected to release a statement on the UK's economy, while Germany's breakdown of first quarter GDP data will shed more light on the health of the country's economy.
In Japan, investors will be tracking the Bank of Japan's Policy Board meeting and trade data for the month of April.
Investors in Asia will also be following manufacturing PMI data for the month of May, coming in from China, apart from Singapore's quarterly GDP data.