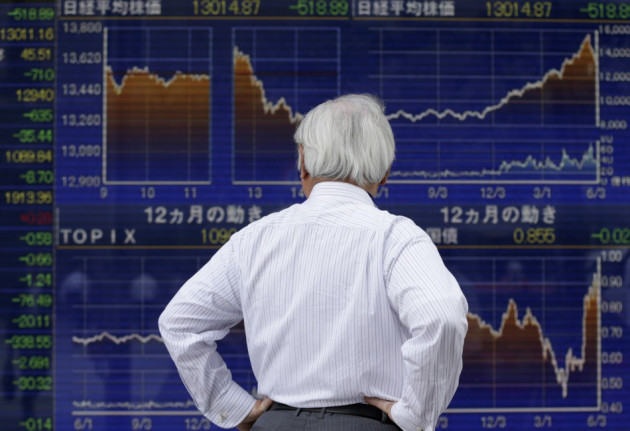 Asian markets outside Australia opened lower on Tuesday, with the Japanese Nikkei losing over 1% in afternoon trade, on news the Bank of Japan would not step in to check domestic bond market fluctuations.
The Nikkei dropped 1.06% or 143.39 points to 13370.81, pulled down by the Bank of Japan\'s reluctance to arrest the recent volatility in the markets. A BoJ monetary policy statement made no mention of possible measures to control turbulent markets.
South Korea\'s Kospi shed 0.68% or 13.11 points to 1919.59, pulled down by a weaker Japanese yen which renders Korean exporters less competitive against their Japanese rivals.
Australia\'s S&P/ASX inched up 0.38% after a long weekend break, but the lower demand for Australian commodities in China weighed on the market. Economic data released over the weekend showed the world\'s second biggest economy could weaken further in the second quarter of 2013.
Hong Kong\'s Hang Seng fell 0.94% or 203.28 points to 21411.81, pulled down by weak Chinese economic data. Consumer inflation in the world\'s second largest economy slowed down to 2.1%, a three-month low, while producer prices dropped to 2.9%, the lowest since September 2012.
Mainland Chinese markets will remain closed until Thursday
On Wall Street, stocks ended flat on 10 June. Rating agency Standard & Poor\'s revision of the US sovereign credit outlook to stable from negative helped equities post intra-day gains. The Dow ended 0.06% lower to 15,238.59. The S&P 500 shed 0.03% to 1,642.81. The Nasdaq Composite inched up 0.13% to 3,473.77.
In Tokyo, paper companies gained the most on Tuesday. Oji Holdings shot up 9% while Nippon Paper and Hokuetsu Kishu both jumped over 6% each
Tokyo Electric Power was the worst performer on the benchmark index, losing more than 5%. Shares of Pacific Metals and Toho Zinc both lost 4% earlier in the day.
Camera maker Olympus lost 1.9% after the Tokyo Stock Exchange (TSE) announced it would remove the company\'s \"security on alert\" tag, almost 18 months after it was first marked when problems with Olympus\' internal controls had surfaced
Exporters\' stocks were down. Consumer electronics giant Sharp lost 3.7% while camera maker Nikon\'s stock was down 3%.
Shares of telecommunications major Softbank dropped 0.5% after it announced it was raising its offer for Sprint Nextel to $21.6bn, from $20.1bn previously.
In Sydney, mining and civil contractor NRW Holdings dropped 8% after the company cut its full-year earnings forecast. Engineering and construction firm Ausenco added 5%.
In Seoul, Samsung Electronics fell 3% on concerns its flagship Galaxy S4 mobile phones may not be moving as well as expected.