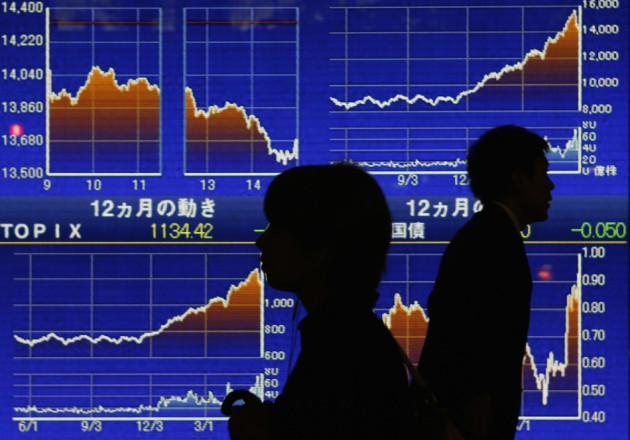 Most Asian markets advanced with the Japanese Nikkei springing back from a 5.2% drop in the day's trade on 30 May, boosted by gains on Wall Street after subdued US economic data hinted the Federal Reserve may not prune its massive global asset buys anytime soon.
The Nikkei was up 1.12% or 152.45 points to 13741.48, after data showed that both Japanese consumer prices and industrial production rose in April, at 0.3% and 1.7% respectively.
China's Shanghai composite index inched up 0.03% or 0.77 points to 2318.52.
Australia's S&P/ASX added 0.33% or 16.30 points to 4947, while South Korea's Kospi moved up 0.29% or 5.9 points to 2006.
But the Hang Seng was down 0.11% or 24.49 points to 22459.82.
On Wall Street, the Dow Jones industrial average inched up 0.14% at the end of day's trade on 30 May, while the SP 500 Index added 0.37%. The Nasdaq Composite rose 0.69%. Rising claims for unemployment benefits and lower-than-expected growth numbers pushed the markets up in the world's largest economy.
In Tokyo, Sony shot up 4% on reports the firm had contacted bankers Morgan Stanley and Citigroup to help it monetise its entertainment business.
Exporters' stocks gained after the US dollar inched closer to the ¥101 level.
Shares of industrial robots maker Fanuc jumped 4.4%. Fast Retailing added 2.4% after losing 11% in the previous trading session, while electronics and ceramics firm Kyocera moved up 2.5%..
Financial stocks moved up as well. Sumitomo Mitsui Financial Group added 1.6% while Mitsubishi UFJ Financial Group inched up 0.8%.
In Sydney, mining stocks gained, while banking stocks were down. Gold miner Evolution Mining shot up 5.1%, while Newcrest Mining moved up 1.1% after gold prices rose on 30 May.
Rio Tinto added 2.4%, while mining giant BHP Billiton advanced 1.5%
But S&P/ASX heavyweight Commonwealth Bank of Australia and National Australia Bank lost 0.5% and 1%, respectively.
In Hong Kong, index heavyweight HSBC Holdings and some realty stocks gained on positive signals from the US.
HSBC moved up 1.1%. Casino firm Sands China rose 2.2%, while China Resources Land added 0.6%.
But shares of mainland Chinese banks and insurance firms were down in cautious trade ahead of the release of the monthly purchasing managers' index (PMI) data.
China Construction Bank was down 1.1%, while China Life Insurance lost 1%
The Chinese government's PMI reading will be out on 1 June, while another reading by HSBC and Markit would be out on 3 June.