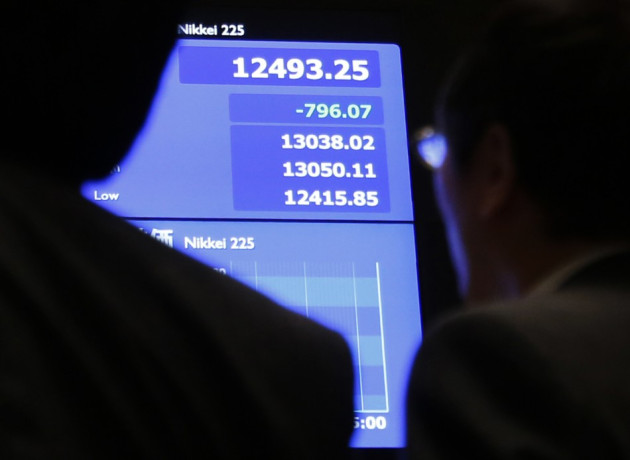 The Japanese Nikkei share average tanked as Asian equities hit new 2013 lows on Thursday, following a downbeat handover from Wall Street, pulled down by uncertainty over the US Federal Reserve's quantitative easing (QE) programme.
The US dollar dropped to a 10-week low against the Japanese yen as QE concerns pulled down Wall Street indices, following the Bank of Japan's reluctance to check the volatile Japanese bond market.
The Federal Reserve will meet on 18 June and the meeting could clear the air as far as the pace of its bond-buying programme is concerned.
The Nikkei was down 4.78% or 635.21 points to 12654.11, pulled down by exporters' stocks. A stronger yen decreases the value of exporters' overseas earnings when repatriated. The Bank of Japan's (BoJ) monetary policy statement on Tuesday made no mention of possible measures to control turbulent bond markets.
The Hang Seng was down 2.63% or 561.94 points to 20792.72 following weak sentiments in mainland China.
The Shanghai Composite was down 3% or 66.41 points to 2144.49 owing to last week's disappointing economic data that showed the world's second biggest economy could weaken further in the second quarter of 2013.
Australia's S&P/ASX dipped 0.62% or 29 points to 4695.20, pulled down by mining stocks.
South Korea's Kospi shed 0.68% or 12.90 points to 1897.01.
On Wall Street, stocks ended lower on 12 June, with the Dow Jones Industrial Average closing below the 15,000 level, logging its first three-day losing streak in 2013. The Dow dropped 126.79 points ending at 14,995.23. The S&P 500 shed 13.61 points closing at 1,612.52 while the Nasdaq lost 36.52 points closing at 3,400.43.
In Tokyo, Fast Retailing's stock tanked 8.1%. Shares of telecommunications major Softbank and entertainment services firm Tokyo Dome dropped 8% each. Shares of Yokogawa Electric and fibre manufacturer Nitto Boseki too fell 8% each. Consumer electronics major Sharp's stock dropped 7.4%, while automobile maker Mazda Motor lost 4.6%.
In Shanghai, realty firm Gemdale's stock fell 5.7%.
In Hong Kong, realty firm China Resources Land was down 4.7%.
In Sydney, mining and petroleum giant BHP Billiton lost 2.4% while iron ore miner Fortescue Metals Group's stock was down 2.1%. British-Australian miner Rio Tinto's stock shed 1.9% after it announced it would sell its Eagle nickel and copper project in the US, comprising of an underground mine and a mill, Toronto-headquartered Lundin Mining for $325m.
In Seoul, index heavyweight Samsung Electronics shed 1%. Automobile makers Hyundai Motor and Kia Motors lost 1% and 2% respectively.