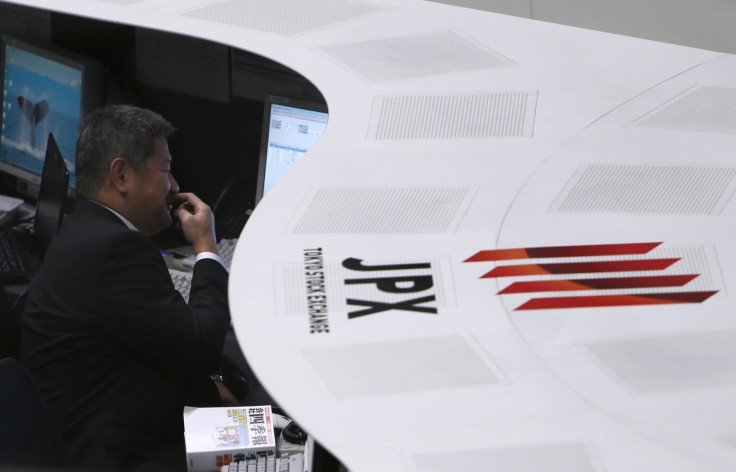 Ongoing geopolitical tensions in Syria and the Korean peninsula have led investors to hold onto "safe haven" assets, with the Japanese yen climbing to a new five-month high against the US dollar.
In response to the record USD/JPY slide and the economic growth news from China, the Nikkei and Hang Seng registered strong upward trends during early trading hours before stabilising during the midday.
On the other hand, midday trades for the Shanghai Composite, Straits Times Index, and ASX/S&P 200 registered sharp downward trends as they hover around a 1% decline.
The following index quotes have been logged on 6:43 am BST.
Japan: Nikkei-Down by 0.08% to 18,320.65
The Nikkei has experienced a large degree of volatility over the past week.
The USD/JPY slide had caused the Nikkei to soar by 0.65% during the day after falling by 1% last Thursday (April 13) and 0.53% on Friday.
Financial services firms comprise of the weakest performers, with Fukuoka Financial Group (-1.68%), Chiba Bank Ltd (-1.56%), and Concordia Financial Group (-1.52%) registering sharp declines.
Hong Kong: Hang Seng-Down by 0.21% to 24,261.66
Computer hardware and electronics giant Lenovo (-0.78%) emerged as one of the weakest performers.
Similar to the Nikkei, financial Services firms Hang Seng Bank (-1.33%), HSBC Holdings (-1.32%), Bank of East Asia (-0.94%), China Life Insurance (-0.65%) were reported as the index's weakest performers.
China: Shanghai Composite-Down by 1.4% to 3,200.647
The pessimistic outlook of the Chinese market is puzzling as The National Bureau of Statistics of China revealed that the Chinese economy grew by 6.9% over the first quarter, beating economists' forecasts by a marginal 0.1%.
Australia: S&P/ASX-Down by 0.74% to 5,889.950
Singapore: Straits Time-Down by 0.84% to 3,142.51
Positive news has been reported by the National Enterprise Singapore, with non-oil domestic exports growing by 16.5% during March. Economists had earlier predicted an increase of 7.3%.
Reasons for the index's sharp midday decline are yet to be ascertained.
India: Sensex-Up by 0.04% to 29,473.15
Investors have expressed a positive sentiment as India's current account deficit is estimated to remain at sustainable levels for the coming years due to strong remittance inflows. Shilan Shah, an economist at Capital Economics revealed to RTT News that the nation's inflow of remittance amounted to over 3% of national GDP and was twice as large as the net capital inflows, estimated at $66bn (£52bn)in 2016.