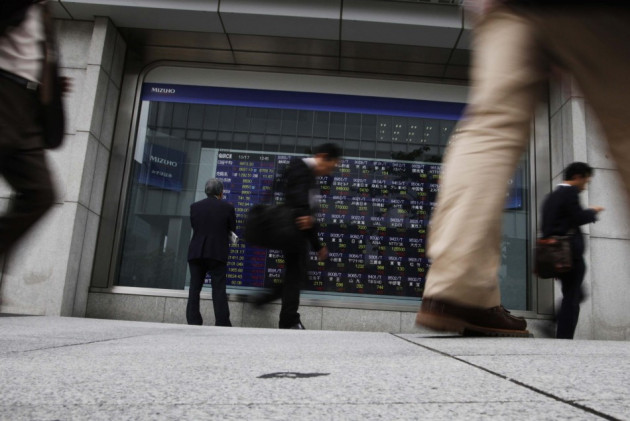 Asian markets extended the previous day's losses in the morning session as worries over the US and the European economies compounded, although economic indicators from China provided some relief.
Japan's Nikkei average index traded 0.94 percent or 83.10 points lower to 8754.05 at 02:54 GMT while South Korea's KOSPI was down 1.00 percent or 19.23 points to 1895.18.
China's Shanghai Composite Index eased 0.10 percent or 2.15 points 2069.36. Hong Kong's Hang Seng dropped 0.54 percent or 117.09 points to 21449.82.
Earlier, global markets had ended lower. Wall Street continued losses for the second consecutive day as investors remained concerned on the looming "fiscal cliff". Worries had increased after the rating agency Fitch warned that the US could face a credit downgrade if its government fails to find a solution to the fiscal crisis.
Greek bailout issues plagued European markets. Athens had managed to narrowly pass a fresh set of austerity measures in its parliament, even as protests against the government's plan continued. The focus is now on the eurozone ministers' meet in the coming week, which is expected to take a call on the issue of bailout funds for the country.
Chinese markets came off their lows in the morning after official data showed that the country's consumer price index (CPI) fell to 1.7 percent year-on-year in October, from 1.9 percent in the previous month. The easing inflation rate is expected to provide more room for China's central bank to introduce further monetary easing measures to aid the lagging economy.
Major Movers
Industrial stocks traded lower in Tokyo. Shares of electronics firm NEC were down 6.54 percent while those of heavy machinery maker OKUMA dropped 3.94 percent.
Metal related firms too dropped. Shares of Pacific Metals were down 4.29 percent while those of Nisshin Steel slipped 3.19 percent. Nippon Steel Sumitomo Metal was down 1.17 percent.
Some of the major Japanese exporters remained low on a stronger yen. Shares of Sony fell 0.90 percent while those of Panasonic were down 0.76 percent.
Construction companies traded lower in Seoul. Joongang Construction fell 12.42 percent while Samho International was down 12.56 percent. Automobile majors Hyundai and Kia Motors were down 0.23 and 2.26 percent.
Shares of Aluminum Corp of China traded lowest in Hong Kong, down 3.22 percent. Shipping related firms China Merchants Holdings and Cosco Pacific were down 1.63 and 1.48 percent.
Glass manufacturer Shanghai Lengguang and pharmaceutical firm MeiHua were down in Shanghai, falling 4.67 and 1.95 percent.