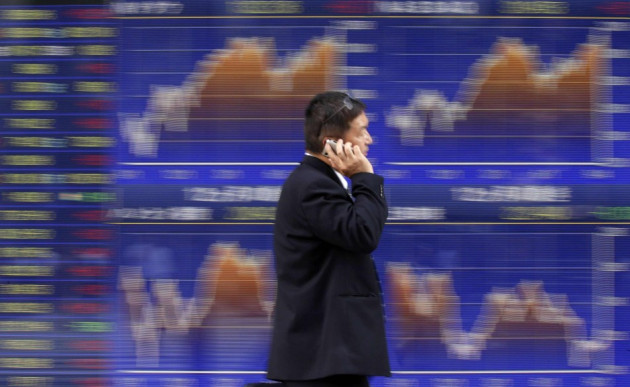 Asian markets have traded lower on worries over corporate earnings, after some of the major US and Asian companies reported weaker than expected results.
Japan's Nikkei sverage eased 0.14 percent or 12.84 points to 9042.36 at 03:56 GMT while South Korea's KOSPI index tumbled 1.17 percent or 22.54 points to 1901.96.
China's Shanghai Composite index dropped 0.73 percent or 15.25 points to 2086.33. Hong Kong's Hang Seng index was down 0.46 percent or 99.41 points to 21710.82.
The results came after Apple, the largest company in US by market value, posted weaker than expected quarterly reports. Online retailer Amazon, which competes with Apple in the tablet computer market, also reported revenue that failed to reach estimates.
Concerns about the US re-emerged after data suggested weak business investment in the world's largest economy in September. But the country's labour market continued to show signs of recovery after the weekly jobless claims numbers dropped by 23,000 to 369,000.
Investors remain wary of the Asian quarterly corporate earnings reports as well. Slowing global demand and territorial issues had affected operations of some of the major firms in the region during the period.
Meanwhile, official data from South Korea showed that the country's economic growth slowed to 1.6 percent in the three months ending September from 2.3 percent in the previous quarter. The country has been affected by the falling demand in the US and European markets and its attempts to boost domestic consumption has not been successful.
Major Movers
Industrial shares were down in Tokyo. Fuji Electric Co Ltd dropped 6.32 percent while Mitsubishi Electric Corporation slid 3.97 percent. Shares of Sumitomo Heavy Industries Ltd traded 3.74 percent lower.
Canon Inc fell 1.85 percent after the company posted a 42.2 percent year-on-year drop in quarterly operating profits. Shares of Panasonic Corp, which announced plans to cut down on its mobile phone business, were down 0.59 percent.
Robotics firm Fanuc Corp slid 2 percent after the company reported weak performance in the first half of the year while those of Toshiba Corp was down 1.38 percent after the Nikkei reported that the company may post a 10 percent drop in operating profit.
Shares of Samsung Electronics were down 1.89 percent in Seoul, as the company's record quarterly profit of $7.4 bn failed to convince investors. Automobile major Kia was down 5.45 percent after the company reported weak quarterly earnings.
Metals were down in Hong Kong. Aluminum Corp of China dropped 3.37 percent while Jiangxi Copper Co Ltd traded 1.47 percent lower. Shares of Foxconn International Holdings, subsidiary of Foxconn Technologies which manufactures Apple's iPhones, slid 1.48 percent.
Metals stocks traded lower in Shanghai as well. Nanjing Iron and Steel Company was down 7.35 percent. Aluminum Corp of China and Jiangxi Copper slipped 3.72 and 2.70 percent. Shares of Baoshan Iron and Steel Company were down 1.31 percent.