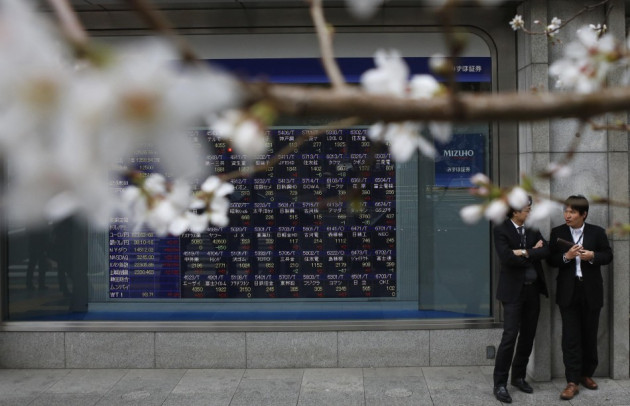 Most Asian markets traded lower in the morning, but Japanese stocks hit a near-five-year-high as the yen tumbled to another record low against the dollar after Bank of Japan's unprecedented monetary easing decisions.
The Nikkei average index was up 3.5 percent or 447.6 points 13082.2 while South Korea's KOSPI was down 1.5 percent or 29.85 points to 1929.6. Australia's S&P/ASX 200 fell 0.4 percent or 21 points to 4892.5.
Hong Kong's Hang Seng was down 1.9 percent or 420.04 points to 21917.5. Markets in mainland China remain closed for a holiday.
Japanese market sentiments continued to remain upbeat as BoJ's policy decisions reinforced hopes that the economy could soon recover from its recent slump. The central bank announced plans to boost government bond purchases, including longer-term debt.
The Nikkei climbed above the 13000 mark for the first time since August 2008 and the yen dipped to its lowest level in over three years. Analysts point out that the BoJ's decision could help the Japanese currency to remain lower for the moment.
"We believe the policy announced today is bold enough to sustain the mid-term JPY weakness," note analysts from Nomura Research in Tokyo.
"The swift move clearly impressed the market, and Mr. Kuroda succeeded in showing that the 'new BoJ' is different".
However, sentiments outside Japan remained weak after reports suggested that the number of Americans claiming jobless benefits hit a four-month high in the previous week. The downbeat data kept Investors in the sidelines as it cast doubts on the crucial nonfarm payrolls data set for release later in day.
BoJ's aggressive monetary easing moves also contributed to weak conditions in rest of Asia, as investors in other countries which compete with Japan worried that the yen's weakness could have a negative impact on them. The Japanese currency's strength in the recent past had helped exporters in countries such as South Korea, Taiwan and China.
South Korean market players also remained concerned on the ongoing tensions with North Korea.
Major Movers
Property stocks surged in Tokyo. Mitsui Fudosan was up 15.5 percent while Mitsubishi Estate Company gained 13.8 percent and Sumitomo Realty and Development Company was up 14.8 percent.
Exporters surged on the yen's weakness. Nissan Motor Company was up 7.4 percent while Mazda Motor Corp was up 6.6 percent.
Financial stocks traded lower in Hong Kong. AIA Group fell 4.2 percent while Bank of China and Bank of Communications were down 2 and 1.7 percent respectively.
South Korean exporters traded lower. Hyundai was down 5.3 percent while Kia fell 6 percent. Heavyweight Samsung Electronics was down 0.2 percent.