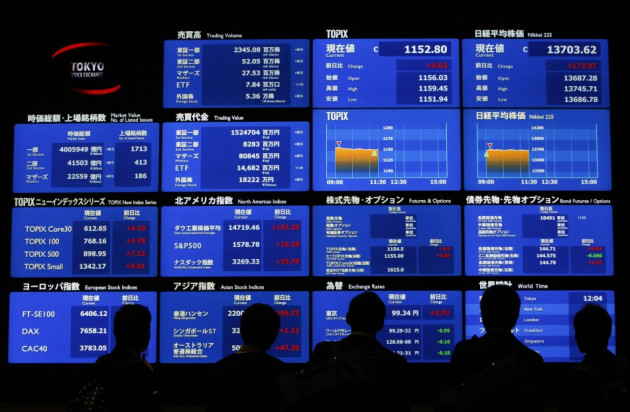 Asian shares posted a mixed response ahead of the Bank of Japan meeting to decide on its future anti-deflationary policies to spur growth in the economy.
Japan's Nikkei Stock Average declined 0.4% or 58.85 points to 13,867.2. Australia's S&P/ASX 200 rose 0.1% or 4.27 points to 5,106.7, while South Korea's KOSPI fell 0.2% or 3.9 points to 1,947.7.
The Shanghai Composite index shed 0.1% or 1.63 points to 2,197.6. In Hong Kong, the benchmark Hang Seng index rose 1% or 220.33 points to 22,621.6.
On Thursday, the US reported a more-than-expected decline in new claims for jobless benefits, lifting investor confidence after a series of weak data. Jobless claims fell to the lowest since 9 March, dropping 16,000 to 339,000 beating analyst estimates of 350,000.
The positive data comes ahead of the Federal Reserve's policy meeting and the closely watched monthly payrolls report due next week.
In the US, the S&P 500 index rose 0.4% overnight, driven by stronger-than-expected earnings and the large drop in weekly jobless claims.
Japan's Nikkei fell as most earnings reports failed to meet analysts' consensus. Of the 16 Nikkei companies that have reported earnings so far, only two firms have beaten market expectations, according to Thomson Reuters StarMine.
The BoJ is expected to project that it will meet its 2% inflation target in two years at a meeting on Friday.
The central bank has been trying to tackle the ongoing deflation in the country. On 4 April, the bank announced aggressive monetary easing measures to revive growth in the country. The announcement has weakened the yen against the dollar, benefiting Japanese exporters, and the currency neared the symbolic 100-yen mark earlier this month.
Nevertheless, the recent weak manufacturing data from the US slowed the dollar's progress against the yen. The dollar is trading at 99.03 yen, down 0.2%.
In Hong Kong, financial and telecom shares led market gains and the Australian market gained after a one-day holiday as mining stocks surged on the rise of the commodity market.
Major Movers
Nikkei's electronics company NEC Corp. declined 6.8%, Fuji Electric fell 7% and Advantest dropped nearly 7%.
In Australia, BHP Billiton advanced 3.4%, Rio Tinto rose 3.6%, Fortescue Metals Group gained 3.2%, and Newcrest Mining surged 6% after gold saw its strongest gains in almost 10 months.
Shares of Hong Kong-traded Bank of China rose 1.4% after the company reported a more than 8% rise in first-quarter net profit. China Unicom Hong Kong rose by 1.5% and China Life Insurance jumped 2.7 percent. The Shanghai Composite Index was hurt by a 0.2% decline in PetroChina.
In Korea, Samsung fell 0.5% despite reporting a record quarterly profit that topped analyst estimates on surging sales of Galaxy handsets.