Asian Markets End Mixed After Chinese FDI and US Tech Earnings Disappoint
Concerns on eurozone ease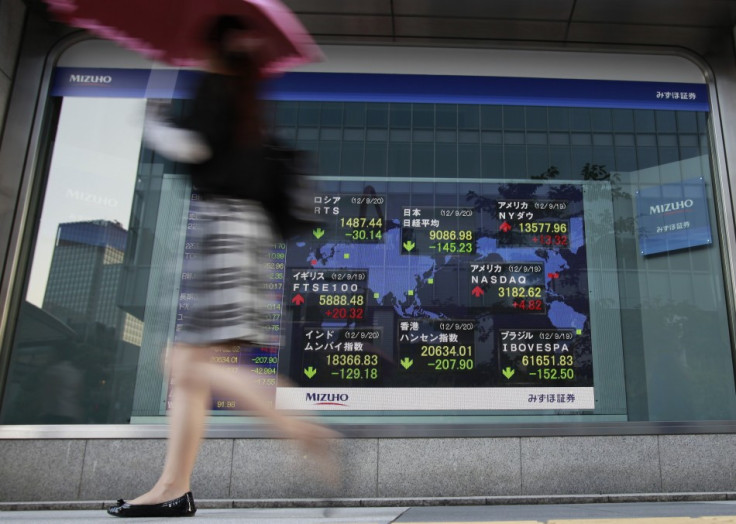 Asian markets have ended the week mixed amid disappointing US quarterly earnings from major technology firms and reports of lower foreign investment in China.
Japan's Nikkei average ended 0.22 percent or 19.82 points higher at 9002.68. South Korea's KOSPI was down 0.79 percent or 15.28 points to 1943.84.
China's Shanghai Composite index was down 0.16 percent or 3.39 points to 2128.30. Hong Kong's Hang Seng gained 0.15 percent or 33.05 points to 21551.76.
India's Sensex index slid 0.76 percent or 146.27 points to 18645.66 at 10:26 GMT.
Markets traded lower early in the day, weighed down mostly by technology related stocks after US tech majors Google and Microsoft posted weaker than expected quarterly profits.
Investor sentiments dipped further in Shanghai following reports that China's foreign direct investment (FDI) fell 3.8 percent year on year in the first three quarters. In September alone, foreign investment dropped 6.8 percent year on year.
"The other focus has been on the banking supervision for the euro area and the right moves to hammer this crucial bit of the jigsaw are seemingly being made," said Jason Hughes, Head of Premium Client Management at IG Markets.
"However, this will not happen overnight and the changes to legislation and even potentially the EU treaties that might be needed to accommodate this are certainly going to take longer than this summit to arrange."
Concerns on the debt crisis were less as Spain was expected to receive an international bailout in the coming weeks, while Greece appeared to be closer to foreign aid after European leaders appreciated Athens's steps to control its finances.
Major Movers
The yen continued to weaken against the euro and the dollar, encouraging Japanese investors to buy stocks of companies with overseas presence.
Honda Motors gained 1.10 percent while shares of Toyota rose 0.16 percent in Tokyo. Nissan was up 1.58 percent.
Metal related firms traded higher. Aamada gained 5.32 percent while Nisshin Steel rose 3.80 percent. Nippon Light Metal and Japan Steel were up 5.63 and 0.22 percent.
Sony stocks ended flat as the Nikkei reported that the company may reduce its domestic workforce by March 2013. Shares of Mitsubishi were down 0.07 percent after the company cut its revenue and profit outlook for the fiscal year.
Commodities gained in Hong Kong. China Petroleum and Chemical was up 0.98 percent while PetroChina rose 0.54 percent. Shares of aluminium producer, Aluminum Corp of China, rose 0.56 percent.
Magnetic cards manufacturer Tianjin Global Magnetic Card and air-conditioner maker Shanghai Highly Group were the major losers in Shanghai, down 7.24 and 7.05 percent.
Samsung Electronics ended 2.62 percent lower in Seoul. Shares of Hyundai and Kia Motors dropped 0.87 and 2.77 percent.
Semiconductor testing device manufacturer, DI Corp, whose clients include Samsung, fell 14.98 percent.
Metal producers Hindalco and Jindal Steel were down 2.51 and 2.54 percent in India. Shares of Tata-owned hotel group Indian Hotel Company fell 5.90 percent following reports that the company is making a bid to take over the international hotel chain Orient-Express.
© Copyright IBTimes 2023. All rights reserved.