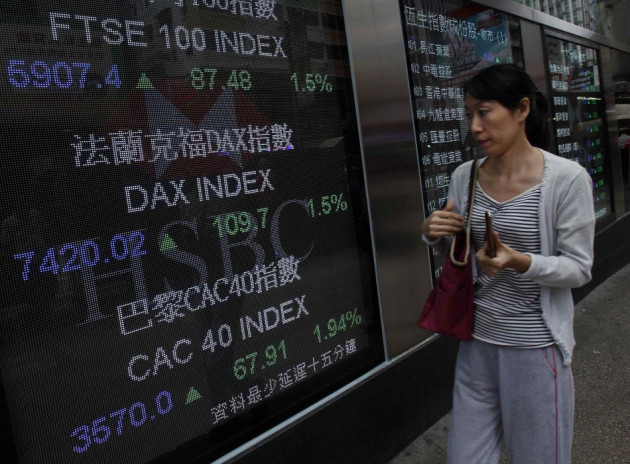 Asian markets are mixed after an initial report showed signs of recovery in China's manufacturing sector amid concerns on US corporate earnings and their impact on the global economy.
Japan's Nikkei average eased 0.02 percent or 1.99 points to 9012.26 at 05:11 am. South Korea's KOSPI dropped 0.65 or 12.53 points to 1914.28.
China's Shanghai Composite index gained 0.35 percent or 7.31 points to 2121.75. Hong Kong's Hang Seng was up 0.20 percent or 44.21 points to 21741.76.
China's HSBC Flash Purchasing Managers Index (PMI) released earlier in the day shows that the country's manufacturing activity edged up to 49.1 in October from 47.9 recorded in the final September reading.
"October's flash PMI reading continues to recover for the second month, thanks in part to a gradual improvement in the new orders index, which picked up to a six-month high (albeit marginally below 50)," said HSBC economist Hongbin Qu in a note with the data.
But the positive indicators from the world's second largest economy were offset by concerns on US corporate earnings. Investors remained wary after the chemical company DuPont reported weaker-than-expected quarterly results, while 3M and United Technologies reduced their performance estimates for the year.
Sentiments were further dampened after the companies announced layoff plans citing the negative outlook. DuPont will cut its workforce by 1,500 while Dow Chemicals plans to lay off 2,400 workers.
"This will be a hammer blow to the latest US unemployment figures which dipped below 8% for the first time in three years recently," said Justin Harper, market strategist at IG Markets.
Traders are also awaiting the US gross domestic product (GDP) data, expected to be released later in the week.
Major Movers
Metal stocks were down in Tokyo. Nisshin Steel was down 3.41 percent while Nippon Light Metal slid 2.50 percent. Nippon Steel & Sumitomo Metal was down 1.16 percent.
Major Japanese automobiles too were down. Toyota dropped 0.32 percent while Nissan and Honda were down 0.71 and 0.92 percent respectively.
Property firms were trading higher in Hong Kong. Sino Land gained 3.64 percent while Sun Hung Kai Properties and Hang Lung Properties gained 2.93 and 2.45 percent respectively.
Some of the metal stocks were up in Shanghai as well. Aluminum Corp of China was up 0.99 percent while Liuzhou Iron & Steel climbed 10.99 percent.
Shipping firm Asia Pacific No 12 Ship Investment Company was down 9.18 percent in Seoul. Shares of Samsung Electronics, whose rival Apple has just unveiled its latest tablet computer, fell 0.61 percent. Automobile majors Hyundai and Kia were down 3.14 and 5.05 percent respectively.