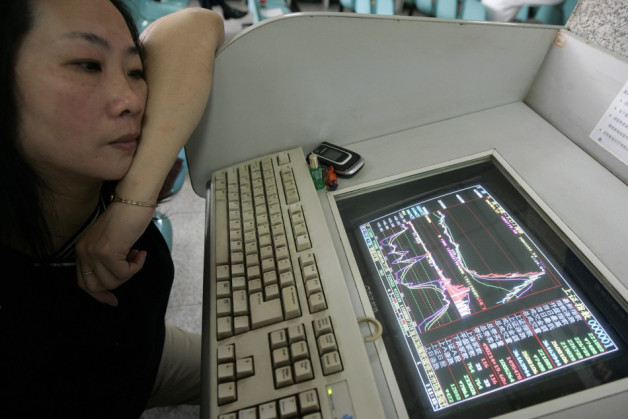 Asian markets have declined as a lower-than-expected China growth data and an unexpected decline in the US retail sales prompted investors to remain cautious and book some gains.
Shanghai Composite index dropped 0.7 percent or 13.69 points to 2,191 and the benchmark Hang Seng Index fell 1.4 percent or 270.63 points to 21,805.1.
Japan's Nikkei Stock Average declined 1.2 percent or 159.61 points to 13,321.8 while South Korea's KOSPI fell 0.6 percent or 12.45 points to 1,913.1. Australia's S&P/ASX 200 declined 1.3 percent or 63.54 points to 4,950.5.
China's National Bureau of Statistics said the country's economic growth slowed down to 7.7 percent in the first quarter from 7.9 percent in the fourth quarter of 2012. Analysts expected a growth rate of about 8 percent for the first quarter.
In addition, China's Industrial output that rose 8.9 percent on year in March was much lower than analysts' targets of 10 percent. Meanwhile, fixed asset investment, a key driver of China's growth, rose at an annual rate 20.9 percent in the first quarter, missing analysts' expectations for a growth of more than 21 percent.
Earlier, the US retail sales for March showed a fall of 0.4 percent and the consumer sentiment index declined to 72.3 compared to 78.6 expected by analysts. The weak data fuelled investors' concerns about the recovery of the US economy.
The Australian market, which is primarily dependant on the resources sector, suffered from a sharp drop in the prices of metals and oil on Friday. Meanwhile, South Korean shares continued its downward movement amid war tensions in the peninsula, weak earnings outlooks and the yen's movements.
North Korea has earlier rejected talks with South Korea aimed at reducing tensions and reopening an industrial park shared between the two countries.
The US on Friday warned Japan not to actively weaken its currency, and the yen gained sharply after the development. The dollar is currently trading at 97.91 yen, down 0.5 percent, after reaching a 52-week high of 99.95 yen earlier.
Major Movers
The decline in prices of oil, metals and other commodities, especially gold futures that slumped to their lowest level in 21 months, affected commodity stocks in the region.
In Tokyo, Pacific Metals was down 5 percent, while Japan Steel Works and Toho Zinc shed 4.8 percent, each.
Chinese oil and gas firm Wintime Energy declined by 11.2 percent, and retail companies Lao Feng Xiang and Shanghai Yuyuan Tourist Mart was down 9.5 percent and 8 percent, respectively.
In Hong Kong, China Resources Power Holdings declined 5.4 percent, oil and gas major CNOOC was down 4.2 percent and China Coal Energy fell 3.1 percent.
BHP Billiton slid 2.3 percent, and Newcrest Mining plunged 6.8 percent in Sydney.